Latest posts by Nazy Rafaeil
(see all)
Last Updated on 2 weeks
As we look forward to prom night 2024, let's explore all the expected well-designed prom dress trends for the coming year. We successfully designed and launched the Prom 2024 collection, and the response was amazing. With sparkling patterns and bold cut-outs, prepare countless trendy styles for you.
The Jovani Prom line is inspired by the latest trends and styles spotted by celebrities at this year's major events. We got inspiration from outfits at the Grammy Awards, Oscars, Cannes Festival, and more. Jovani is learning from the most stylish and well-dressed celebrities.
We added lots of tiered skirts and layered dresses to the line. Lots of high slit dresses in bright colors are part of 2024 designs. Corset bodice dresses seem to be very trendy, and we can see a lot of fans are posting images of corset bodice. 
Short Summary
What are the Hottest Trends of 2024?
What are the hottest prom colors of 2024?
What will be the most popular color for a prom dress in 2024?
Are Sequins in Style for 2024?

Latest Trends in Prom Dresses for 2024
Prom 2024 is all about expressing your style with the latest dress trends. We gladly announce that we have the most unique prom line for 2024. Our sales team discussed the most preferred prom styles ordered and searched by senior high school girls with our retailers.
Most celebrities showed elegant designs on the 7th edition of the annual Cannes Film Festival. From silky simple dresses with attached capes to cover sleeves to beautiful glamourous beaded gowns in bright colors. We have seen a sample of these stunning styles in the last year's prom collection.
This year, we are getting inspired more by gorgeous celebrities to prepare Jovani's most beautiful designs. Jovani will include many bright colors, such as pink and fuchsia, in the most delicate fabrics in this year's prom collection. Explore the '2024 Prom Trends' to see how these Barbie-inspired dresses align with upcoming fashion trends, bringing a playful yet sophisticated vibe to your prom night.
We got lots of emails from our fans and customers who are already looking to find dresses in stores. This year, we are working hard to keep a huge inventory of our prom designs to ensure every student gets her prom dress on time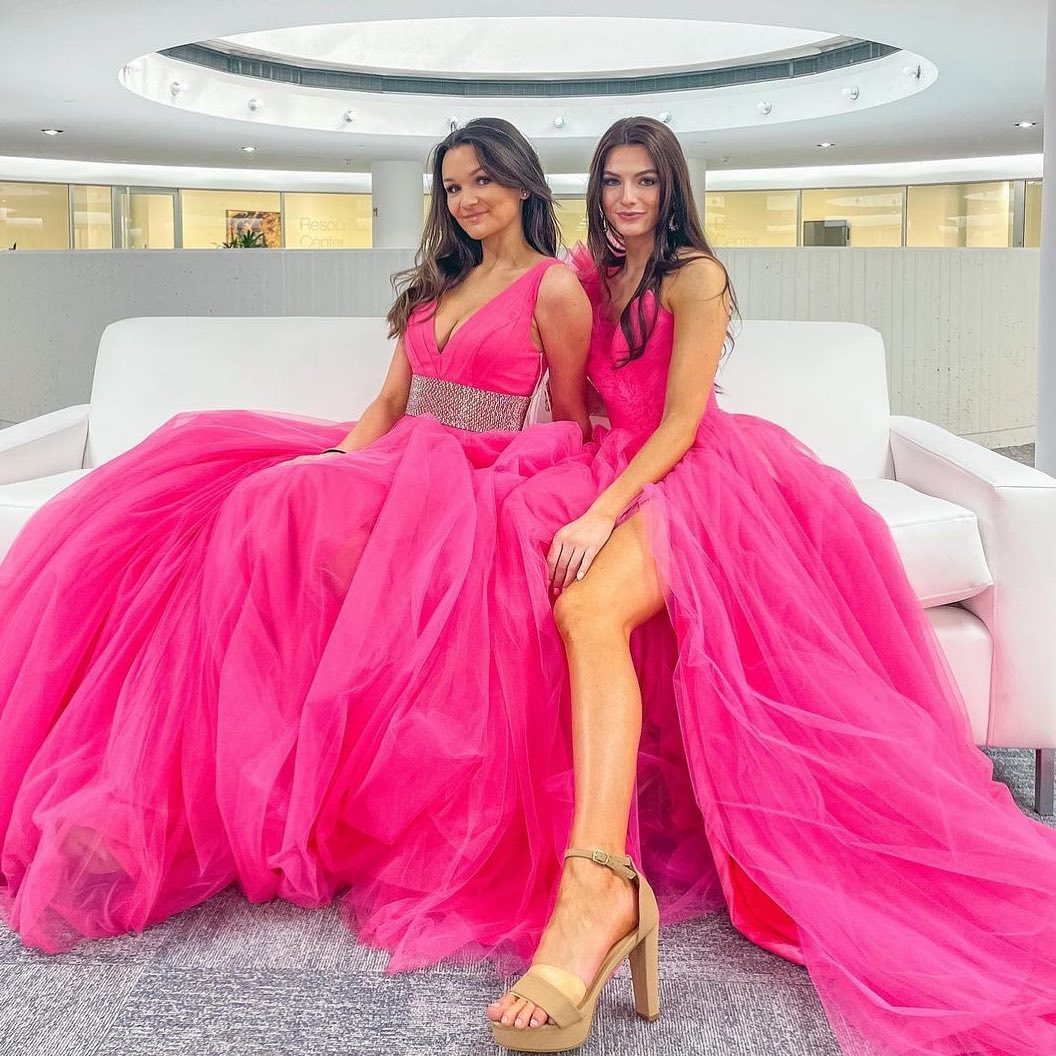 As we already said, we see many glamourous embellished silhouettes on one shoulder, strapless and halter neck. For example, we've created ballgowns with an empire waist and a beautiful, decorated top made from dreamy tulle fabric.
We also have another version of a tulle fabric ballgown, but this one has fluttering ruffled sleeves and a stylish side slit. We also included pleated bodice ballgowns with layered skirts. Our designs are all about taking what's trendy and making it perfect for prom.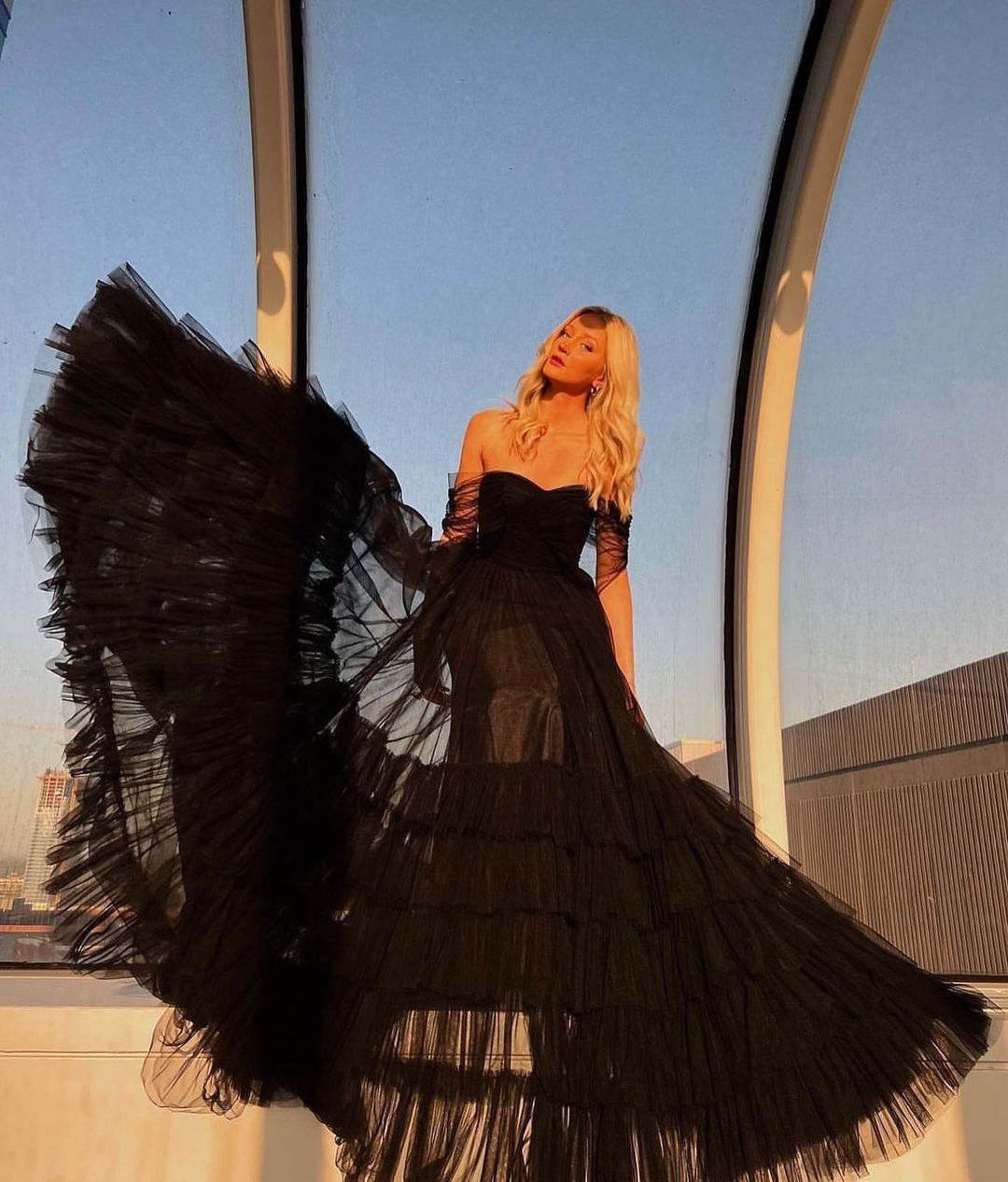 We will also include making strapless dresses with tulle fabric and embellished tiered skirts, a style that's been super trendy since last year.
The Jovani Prom line doesn't stop at the trendy styles; we also bring sparkle to your big night. For instance, we're including fully decorated sheath dresses in both gold and silver.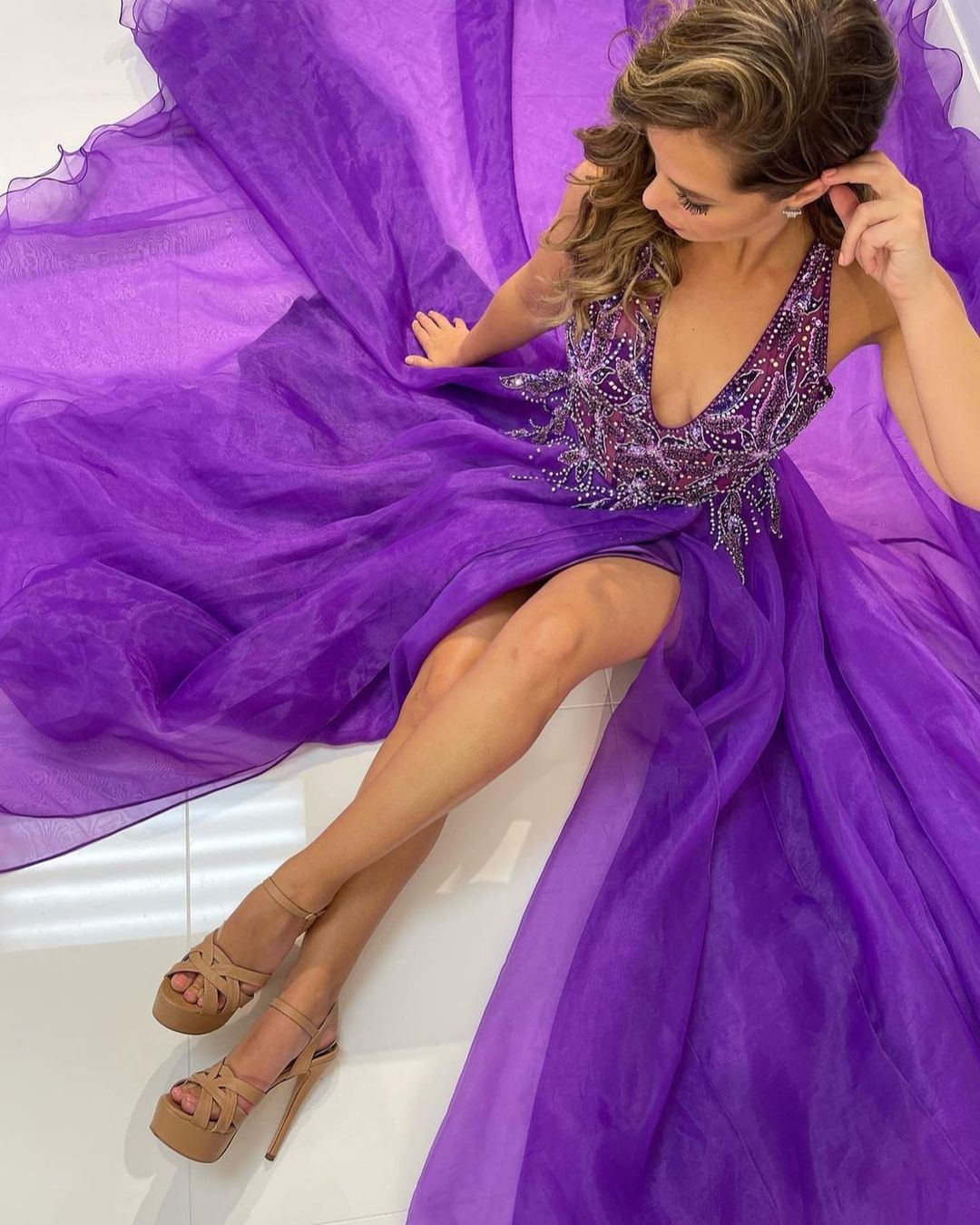 The Jovani Prom line also splashes color to your prom night. One of the most lively colors in our new designs is purple in shades such as lilac light purple, lavender, and orchid. We've got everything from light to dark and even lovely lilac shades. Many of our gorgeous ballgowns, some with intricate embroidery or delicate lace cuts, will be made in these stunning shades of purple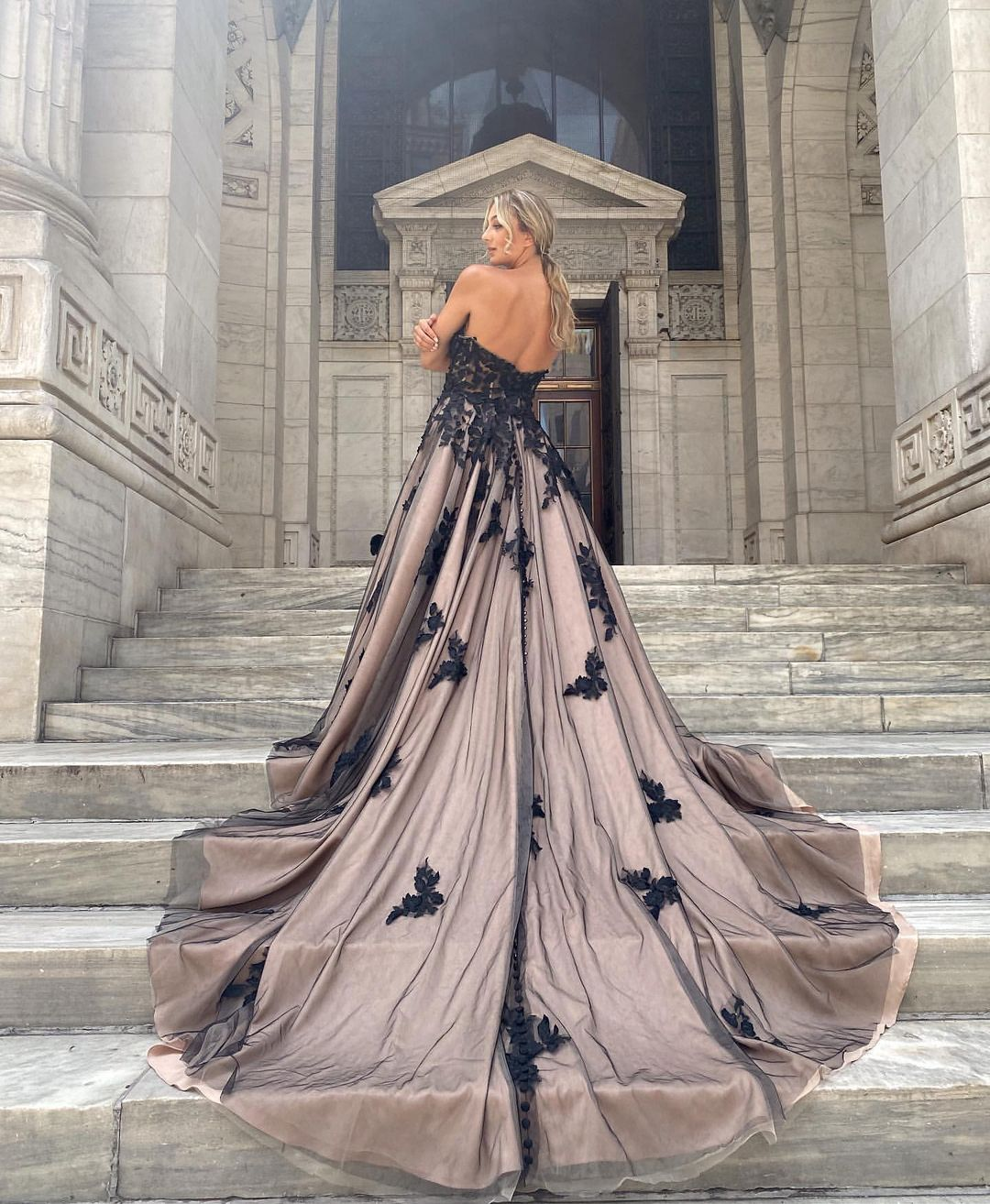 Floral fabrics are popular; beautifully cut-out, flowy designs were created last year. This year's designs will have many tiered and layered skirts. These Dresses are designed with stylish and elegant rosette designs made with satin, chiffon, and tulle. Flattering chiffon and silky prom dresses will be a big part. Rosettes will be added to or embroidered to the fabric. Tulle ballgowns designed in layered skirts and rosettes all over the bodice are part of popular styles for this year's Prom.
The Jovani Prom line isn't just about long dresses. We've also designed a variety of short styles for those who prefer to step out at their prom or other special events in a cocktail dress. We've included many designs with simple bodices. These new designs will complement the fit-and-flare and sheath silhouettes. Taffeta designs are made in ruched bodices with bow or rosette designs on the side with side drapes such as styles 07807 and 37061.
A particular dress code defines many weddings. When it comes to weddings, everyone wants to look their best, right? Jovani's fall collection has been a big hit and the first choice for those who attend a wedding. This includes the guests and even the families of the people getting married.
The 2024 Collection is a stunning array of unique, high-quality dresses. Each dress is a work of art, featuring a range of fabrics and necklines, intricate details, and hand-sewn beads.
These glamorous garments come in different styles, so anyone can find something that fits their taste. You can find long gowns covered in shiny sequins or fancy clothes with cool ivy designs.
No matter what you like, a sparkly outfit will be an option for you to wear and shine if you prefer a glamorous one. The most popular fabrics are beaded sheer, taffeta, tulle, and stretched beaded fabrics.
High-Low and Short Prom Dresses
The Jovani Prom line also features some standout designs in green, especially our high-low dresses. For example, a vibrant lime green dress perfectly exemplifies our high-low style. This dress has a strapless neckline and a ruched bodice, combining trendy fashion with a fun twist.
So, if you're looking for something a bit different but still super stylish, this could be your perfect prom dress!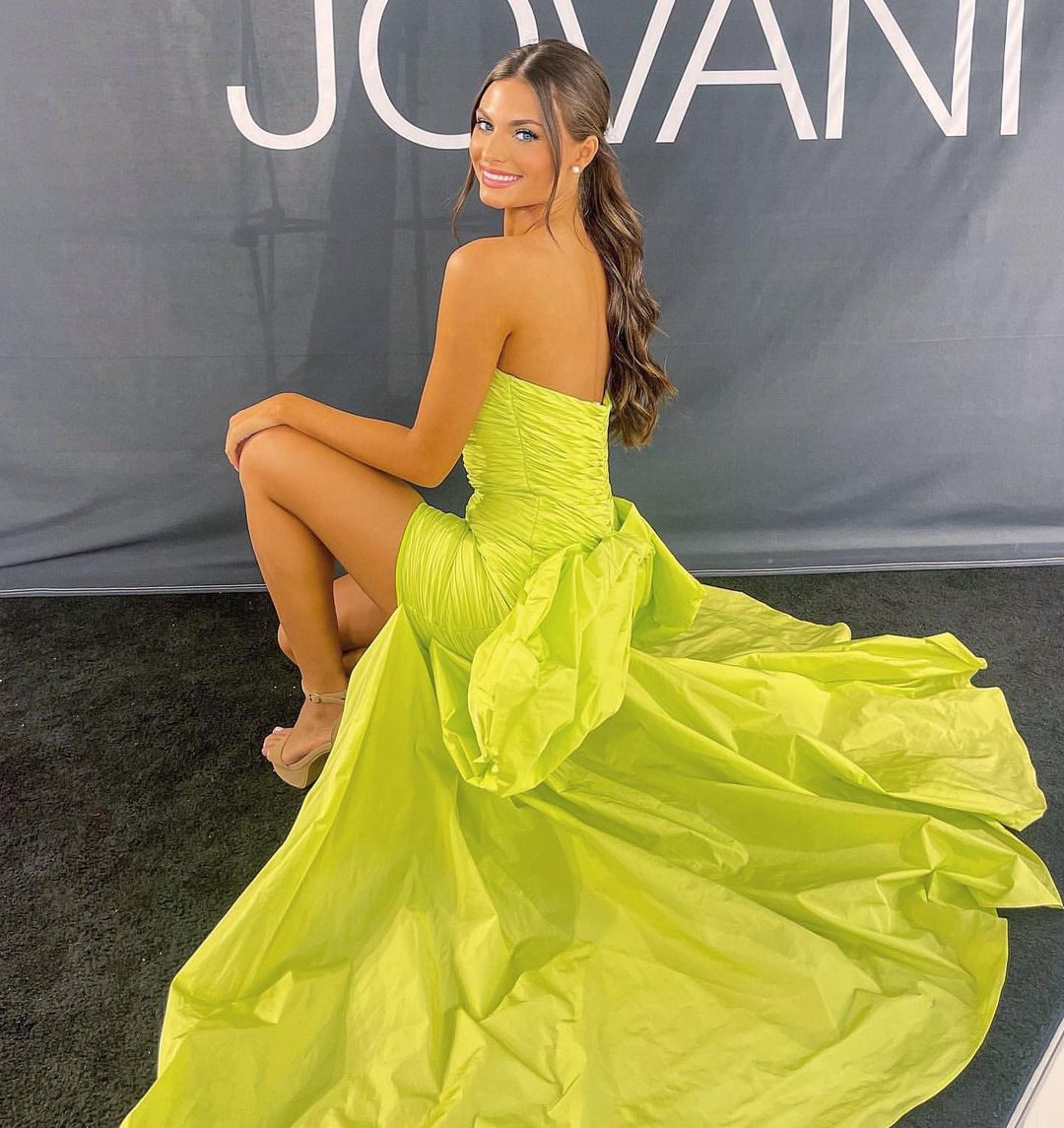 Fringe Designs:
Jovani has added an array of stunning fringe designs this year that are show-stopping. These pieces are adorned with colorful beads. Jovani has skillfully tailored these designs to celebrate the silhouette with body-hugging cuts that ensure each garment is as flattering as it is mesmerizing

Daring Cut-Outs with Beaded Bodice
The Jovani Prom line has also noticed that many people are interested in dresses with cut-out designs that look stylish and a bit sassy. These dresses can be made from sparkly beaded fabric, cool mesh material, or beautiful floral patterns.
So, this year, we plan to include various cut-out styles made from different fabrics. These designs are fun and fashionable, showing you a bit of your playful side while still looking stunning for your prom.
Discover the Elegance: Luxurious Velvet Prom Dresses by Jovani – Trending Styles for 2024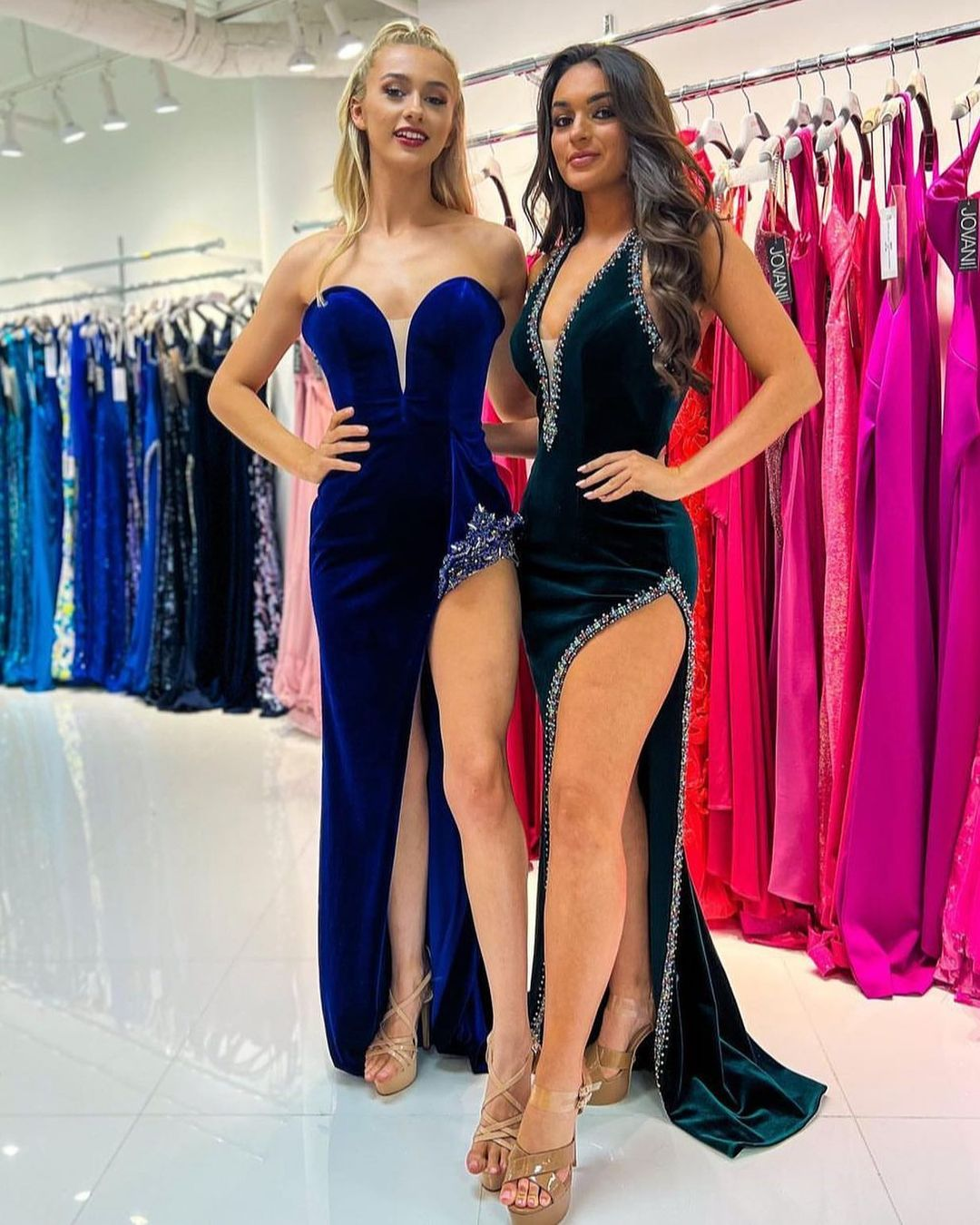 Lastly, let's talk about velvet. In the Jovani Prom line, we've had numerous designs in this luxurious fabric in a range of stunning colors, with lovely decorations on the top part. These velvet dresses have caught the eye of many girls, making them a popular choice.
Velvet is a soft and plush material that feels good to wear and looks rich and elegant. That's why we're thinking of creating even more designs in velvet.
Whether rich, deep blue or vibrant, fiery red, our velvet dresses are designed to make anyone wearing them feel like a star. Some gowns have a simple shape that lets the velvet fabric be the show's star.
Other gowns have detailed decorations that add a touch of glamour and make them extra special.
What are the hottest prom colors of 2024?
At Jovani, we understand that color is a powerful way to express your personal style. That's why we're designed a rainbow of bright hues for our fall and spring prom line. Colors feature brilliant shades of fuchsia, radiant red, sunny yellow, vibrant purple, and bold blue.
We also appreciate the timeless appeal of classic black and white. These colors can make just as bold a statement as the brightest shades. Whether you want to channel the sophisticated allure of a sleek black dress or the pure elegance of a pristine white gown, we've got you covered.
Our new collection caters to everyone's unique color preferences, giving you many options. Each design will be available in various colors, ensuring a perfect match for every individual style and personality.
But we're not just focusing on color but also working on various styles and silhouettes to suit different body types and tastes. The gowns have everything from dazzling decorations that sparkle to detailed stitch designs. Also, high waist designs to cool cut-outs are included in the latest styles.
Junior Prom Dresses: Ball Gowns and Princess Styles
We're planning many new designs for the Junior Prom that reflect youthful charm and elegance. Imagine twirling in a princess-style ball gown with a beaded bodice or intricately cut pieces of embroidered lace. These styles are coupled with a full tulle or shiny taffeta skirt.
These dresses are the perfect way to showcase your vibrant spirit! Imagine the stunning full skirts of our voluminous ball gowns, crafted from fluffy layers of tulle and available in a rainbow of colors.
These gowns are further enhanced with matching embellishments for that added touch of sparkle. Ball gowns remain very popular and highly demanded among high school students who wish to look like a princess.
Senior Prom Dresses: Sophistication and Elegance
For our senior prom-goers, it's all about sophistication and glamour. Popular dress styles often feature elegant silhouettes like the streamlined sheath or column styles. Imagine wearing a sheer dress adorned with hand-placed crystals, exuding luxury and style.
Both long and short fringe dresses will keep sparkling in our collection. These dresses, made from stretchy, see-through material, are designed to sway and twirl with every step you take. The sparkle and shine of these dresses are like a starry night sky. Every sequin and glittery detail catches the light and creates a mesmerizing dance of colors.
What will be the most popular color for a prom dress in 2024?
Back in September, the color specialists from WGSN and Coloro declared Apricot Crush as the official color for 2024. Apricot Crush is a versatile color that can be dressed up or down depending on the occasion.
For a formal event, pair it with other rich colors like black, navy, or emerald green. For a more casual occasion, pair it with lighter colors like white, cream, or light blue. As we saw in the New York fashion show in September, Apricot Crush has been popping up on the runways and in fashion magazines, indicating that it is a trending color. It is a warm, optimistic, and flattering color that is trending more in the fashion industry.
Even before Apricot Crush was named the official color in 2024, Jovani was ahead of the trend. We already included dresses in similar hues like apricot, cafe, champagne, and light gold in our 2023/2024 line.
The beautiful Jovani 02445 dress sparkles with its glittery mesh and decorative details. It captures the essence of warmth and celebration. Its shimmer mirrors a gentle starlight, adding a touch of magic to any special occasion.d
Now that "Apricot Crush" is named the color of 2024, we're excited to use this bright, happy color in our new dress designs. From sleek sheath dresses to flowing ball gowns, expect to see a variety of styles shining in Apricot Crush.
At Jovani, we love to celebrate what makes each person unique and always keep up with the latest styles. Using the year's color, we help ensure you'll look super trendy on your special night.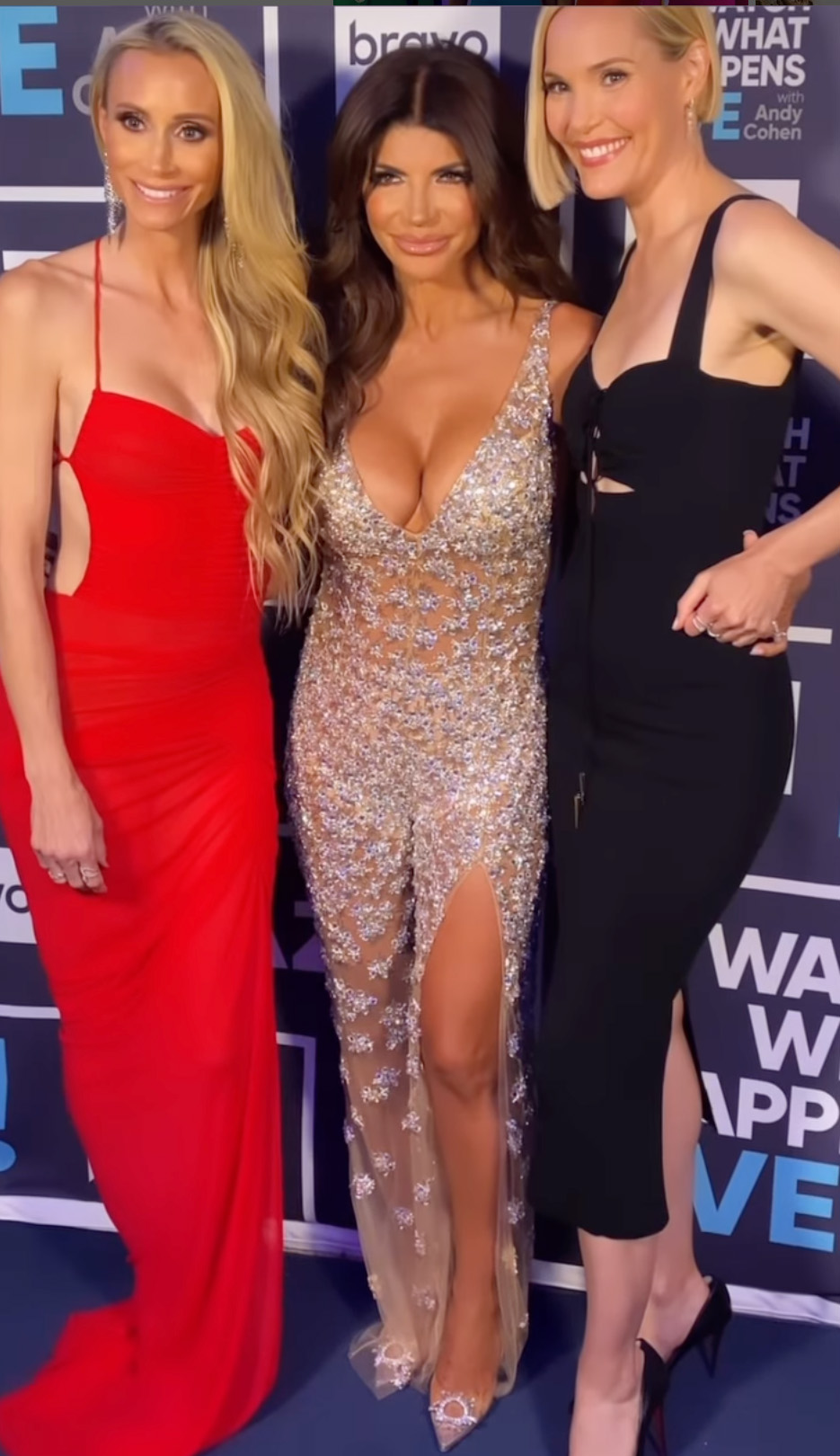 Getting Inspiration from Influencers and Social Media
Jovani isn't just looking at color trends; we're also turning to influencers and social media for inspiration. Sites like Instagram and Pinterest are full of cool style ideas. They help us keep up with what's popular right now.
But our inspiration isn't limited to online trends. We're also keeping a close eye on the red carpet. We also watch what famous people wear to big events. When stars wear Jovani dresses, it helps us understand what styles are becoming popular.
Many famous people have worn our dresses. This includes award-winning actresses and singers who top the charts. Fashionable influencers and famous models have also chosen our designs.
We've seen our creations on many well-known figures. For instance, celebrities like Taylor Swift, Ariana Grande, and Selena Gomez have all dazzled in Jovani on the red carpet. We watch how these famous people wear our dresses. This gives us ideas for our new designs.
We want to keep making outfits that are both trendy and classic. The picture above shows Teresa Giudice, a star from the hit show "The Real Housewives of New Jersey." She appears bright and beautiful in a dress decorated with shimmering beads. Her Jovani attire, elegant and captivating, makes her sparkle just like a precious stone.
Checking Recommendations and Reviews
If you're trying to find your perfect prom dress, reviews and recommendations can be an invaluable resource. Popular websites such as Neman and many other Jovani retailers are all excellent places to look when shopping for a dress.
You can also find and check out the dress you like on Jovani's website. It'll take you to one of our reliable and well-known retail partners to make your purchase.
Reading customer feedback will give valuable information about the fit of clothing items and any other buying experiences so that you feel confident in finding something stylish and within your budget.
A Look Back: Prom Dress Evolution Through the Decades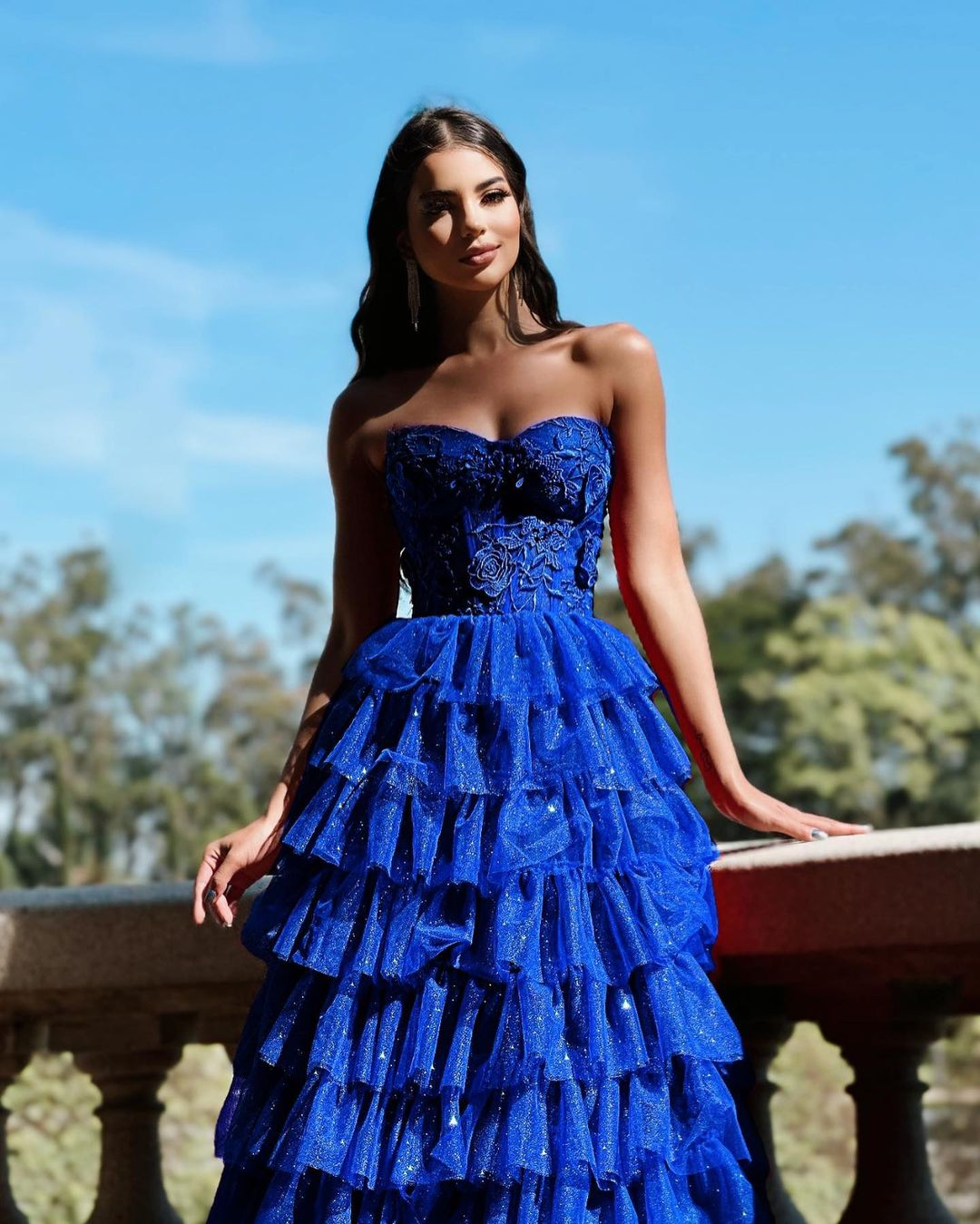 Looking back at the progression of prom dress fashion over time is inspiring as we welcome the latest trends for 2023. Prom styles started fairly restrained, with high necklines and longer skirts popular in the 1940s-50s.
By contrast, gown cuts became much bolder during the sixties and seventies. Hemlines got shorter, and designs more daring than ever before! In the 80s, we saw many different colors in fashion. Moving to the early 2000s, clothes kept classic shapes.
But they added a fun twist. They did this with cool details on the material or by adding cutouts.
Reflecting on Style Evolutions: From 1940s Prom Dresses to Modern Jovani Creations:
In fashion, the 1940s and 1950s were defined by an air of refined elegance. During these decades, prom dresses often featured longer hemlines, extending to the floor or tea-length.
This was a time of modesty and simplicity, largely influenced by the war rationing that required styles to be understated. Even with these changes, the dresses always stayed classy. They often had pretty ruffles. They also used delicate tulle decorations. And, of course, they had classic bows.
Styles from these past decades have lasted. They've even inspired modern designs. These older fashion parts are used in new ways today. This shows how fashion can be timeless and always come back around. Fashion keeps changing, and so does Jovani.
We've added new, bold designs to our collection. You'll see dresses with fun cut-outs, sparkly decorations, and many bright colors. And we don't just stick to one style or length. We want to offer a variety of choices because everyone is unique and has their taste in fashion.
So, while Jovani keeps changing and creating new styles, we'll always remember where we came from. We'll keep blending the old and the new, creating dresses that make everyone feel special and stylish.
Bold and Bright: 1980s to Early 2000s Prom Fashion
The 1980s and early 2000s were pretty exciting times in fashion, especially for prom dresses, and Jovani was at the forefront of those trends. When it comes to prom dresses, many people know the name Jovani. That's because Jovani makes designs that fit the style of the time.
In the 1980s, Jovani's long prom dresses reflected the bold, daring style that was popular then. Bright colors were everywhere, and polka-dot prints were a big deal. Imagine stepping onto the dance floor in a dress that sparkles in neon pink or electric blue, covered with fun polka dots.
Imagine that dress with an oversized bow on the back or at the waist. That's the quintessential 80s Jovani prom dress for you!
In the 1990s, the style started shifting a bit. The bright, in-your-face colors from the 80s started to fade away, and darker colors, especially black, started to come into fashion. Picture a long, elegant black dress that goes to the floor.
It's sleek and slim, just like a sheath, and it's adorned with a touch of fur, maybe around the neckline or the sleeves. This style is more sophisticated and less playful than the 80s but still has a big impact. It's a dress bound to make you feel glamorous and elegant on your prom night.
As we entered the early 2000s, Jovani prom dresses showed more creativity and flair. The color palette expanded once again, and beading became a big trend. This wasn't just a couple of beads here and there, but rather intricate designs that covered entire sections of the dresses.
These designs looked great with creative hairstyles. Some people chose fancy updos, while others went for loose waves. To add more sparkle and glamour, they also used glittery hair accessories. All these elements together completed their beautiful prom look.
That's how Jovani prom dresses evolved from the 1980s through the early 2000s. Every era had its special fashion trends. But one thing remained consistent. Jovani excelled at creating dresses that turned heads and made prom nights unforgettable. Their unique designs always captured people's attention, leaving a lasting impression.
Are Sequins in Style for 2024?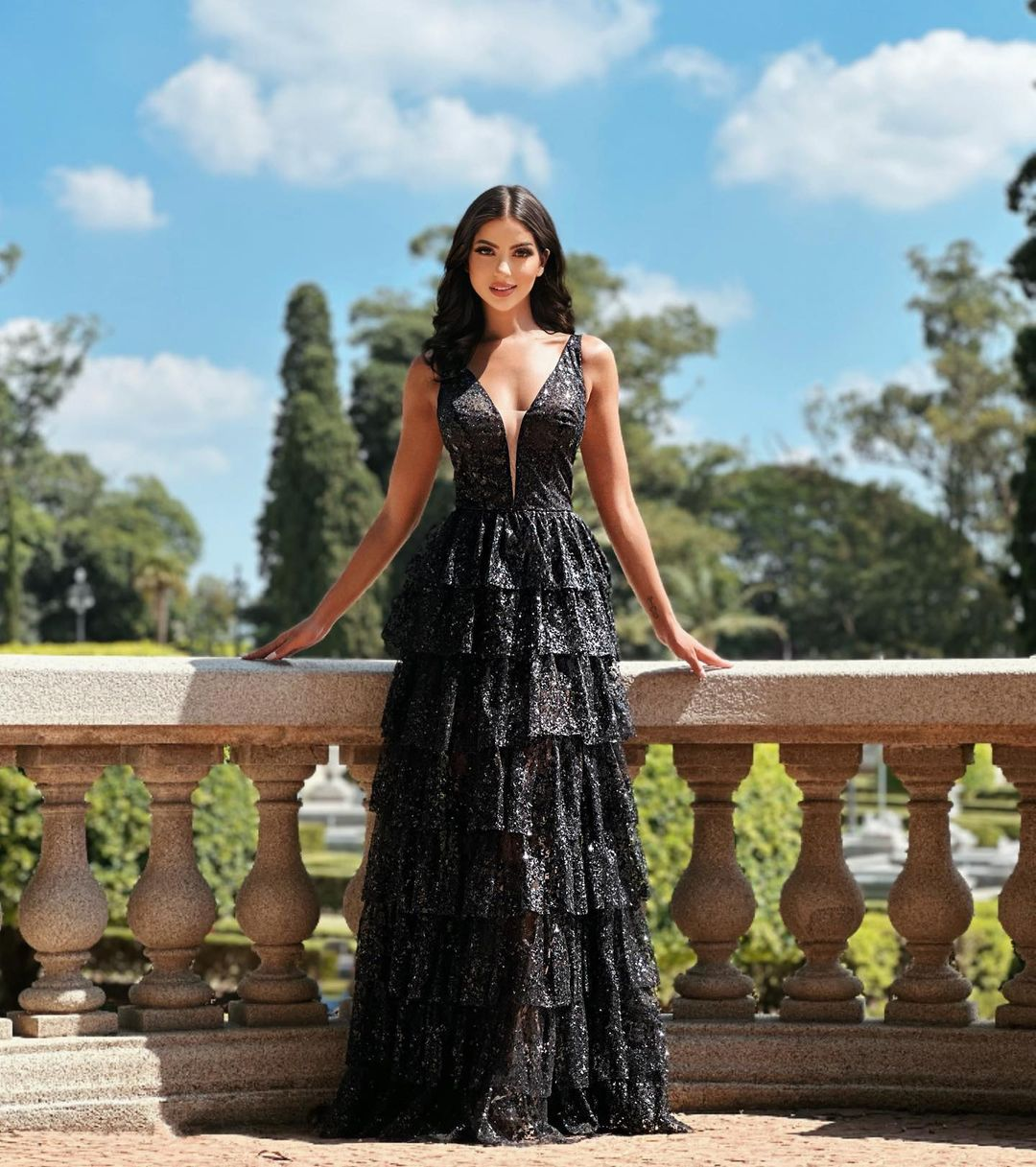 In 2023, a star of the show in fashion, especially for Jovani, was sequin dresses. Sequins are small, shiny discs sewn onto clothing to make them sparkle and shine. These dresses lit up the room with their glimmer, making the wearer stand out and shine like a star!
One of the showstoppers was a blue and multicolor sequin dress style 3192. Now, imagine a dress covered with these shimmering sequins in various colors. When the light hits the dress, it creates an explosion of color, just like a rainbow.
Another stunning sequin style that Jovani introduced was 07068, made with stretch sequin fabric. This fabric can stretch and hug your body perfectly, ensuring a great fit.
This dress was form-fitting, meaning it closely followed your body's shape. A highlight of this design was the high feather slit on the floor-length skirt. This meant the dress had a cut or opening that went up the leg, adding a dramatic touch.
These dresses made a big splash in 2023, and the good news is that Jovani isn't stopping there! They'll continue to design more gorgeous sequin styles for those who prefer a touch of glam in their wardrobe.
Whether heading to a dance, a party, or any special event, you can look forward to shining brightly in a Jovani sequin dress.
In conclusion, the Jovani 2024 fall collection is set to showcase a stunning array of unique and captivating designs.
Drawing inspiration from fashion trends, celebrity styles, and customer preferences. Jovani is committed to creating dresses that will make you feel confident, stylish, and unforgettable.
Expect to find breathtaking options, including vibrant colors and intricate embellishments. Flattering silhouettes are designed with luxurious fabrics. Prepare to embrace fashion-forward styles and create beautiful memories with Jovani's exquisite dresses.
Feel free to revisit JOVANI prom dress collection frequently, as we continuously introduce new additions even before the official launch of the complete collection.
As you embrace the latest trends for 2024, don't forget to explore our Sheer Dresses Collection for a touch of elegance and allure. These stunning dresses perfectly capture the essence of contemporary style, making them an ideal choice for your prom night.
Return to The Ultimate Prom Manual