Latest posts by Nazy Rafaeil
(see all)
Last Updated on 1 week
A-line wedding dresses are popular among brides. This is because their shape looks great on everyone, and there are made in different styles. These dresses are a favorite for a long time, and it's easy to see why.
This guide will break down everything you need about A-line dresses. We'll help you understand an A-line dress and the latest trends. We will also explain how you can style it to look your best on your wedding day.
We're here to ensure you shine brightest on your special day. We're buzzing with excitement to share some fantastic news! Jovani is currently busy developing its newest collection for the fall season.
The Jovani bridal collection with the most elegant designs will be launched in less than a month. Prepare for a beautiful mix of the most stylish and trendy wedding gowns.
Short Summary
A-line wedding dresses offer a timeless, flattering silhouette and great versatility in style.
They can be customized with various necklines and sleeves to create a unique look. Popular trends for 2024 include asymmetrical necklines, romantic lace, convertible gowns & bold colors.
The New Designs are perfect for creating an elegant yet personalized bridal look.
Understanding the A Line Wedding Dress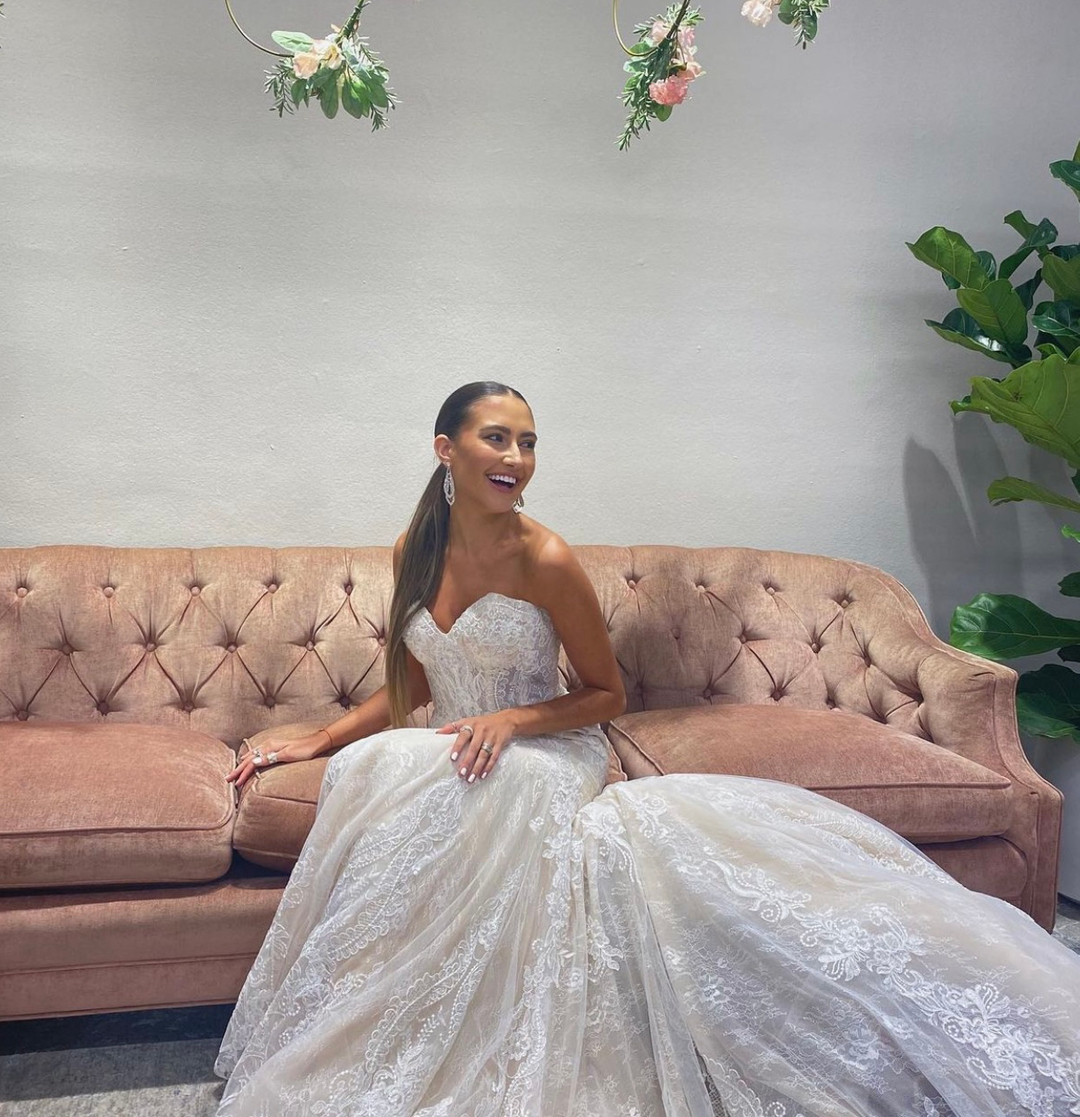 A-line wedding dresses have a unique "A" shape. They fit snugly at the top and then flare around the waist, creating a skirt resembling the letter "A."
These styles, favored by many brides, come in different versions. They can be modified by adding sleeves, straps, or trains, making each unique. Fabrics like lace, silk, and organza are often used for A-line dresses.
Some gowns might have delicate lace on materials like tulle or satin for a more romantic feel. These designs are inspired by styles like those created by designer Martina Liana.
The design of an A-line dress also provides versatility. Allowing brides to find exactly what they need.
If you're considering a break from tradition, you might find inspiration in our guide on selecting unconventional and unique wedding dresses, offering creative ideas to personalize your A-line gown.
The Versatility of A-Line Gowns
A-line wedding dresses are a great choice for any bride, no matter their style. Whether you like classy and timeless things or modern and unique, there's an A-line dress. Plus, with so many ways to customize each dress, it can match exactly what each bride envisions for her big day.
Whether after a short sleeve or a strapless dress with details, an A-line wedding dress is a great option. It will complement your style and make you sparkle and look trendy with today's wedding fashion.
To further understand how A-line dresses fit into the broader bridal fashion spectrum, check out our comprehensive silhouette guide for wedding dresses, which can help you explore other styles suitable for your wedding theme.
Elegant Bride
An A-line wedding dress is perfect for an elegant bride. It offers sophistication and grace with intricate lacework, beads, or luxurious fabrics.
To Enhance its simplicity, pair an a-line gown with statement earrings. Also, match it with a delicate necklace and even a tulle veil. This timeless silhouette will leave any bride feeling beautiful on her special day.
Combining classic design elements can bring out one's unique style to create a stunning look. Making this type of dress is ideal for not only your big day but other occasions as well!
For brides interested in exploring diverse fabric options, our article on the elegance of chiffon in bridal dresses delves into how chiffon can enhance wedding gowns.
Classic Bride
These classic dresses often feature tulle skirts, sweetheart necklines, and cap sleeves. These elements add a touch of elegance to these traditional outfits.
The shape of an A-line dress is similar to an A-line skirt. But these dresses can also have modern changes like corset tops or drop waists. These additions are designed to show off curves while giving the dress shape.
Those who appreciate the classic A-line look might also enjoy our selection of elegantly tailored bridal gowns, showcasing how a snug fit can elevate various bridal styles.
Modern Bride
Brides can discover designs that have special details and different kinds of fabrics. These give a modern spin to the classic A-line shape.
Choices go from basic shapes to showy outfits with flashy touches or boho queen dresses decorated with detailed designs. Popular wedding dress options include shiny satin and A-line material with bold necklines like halter styles or more traditional cuts.
Modern brides seeking global fashion inspirations can delve into our feature on the worldwide diversity of wedding gowns, enriching the uniqueness of their A-line dress choice.
Comparing A-Line Dresses to Other Silhouettes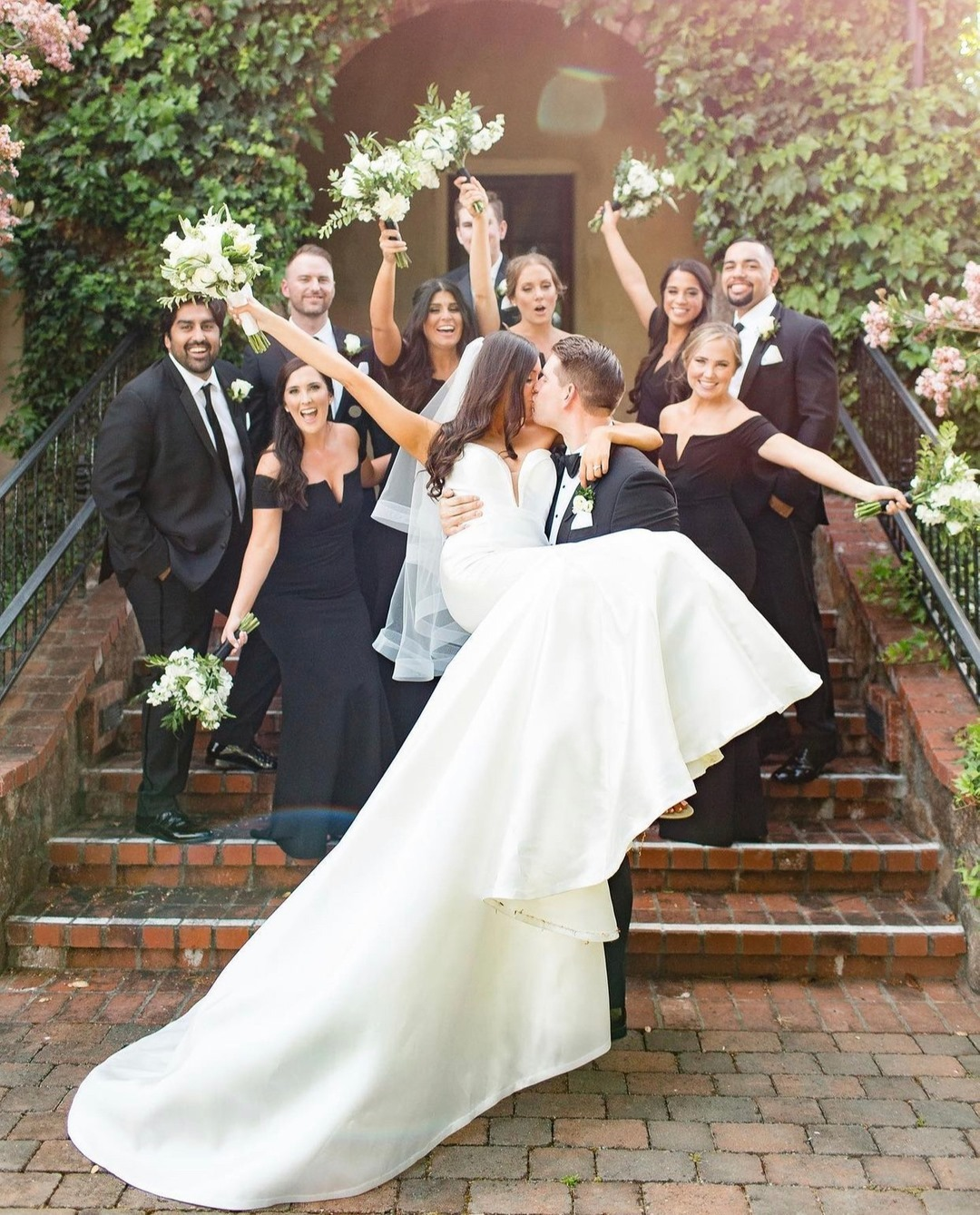 The A-line style is a great option for wedding dresses between sheaths and ballgowns. They have fitted bodices and flared silhouettes that begin at the waist. Less tight than mermaid gowns but with a more delicate flare.
Compared to A-line dresses, ball gowns usually have a puffier design. This is because of their big skirts and the large flare that starts from the waist, adding drama to the dress.
But, like an A-line, the Sheath Dress has a straight skirt that begins narrow around your waist. This gives you a sleeker look that's a bit more subtle compared to the grand scale of Ball Gown weddings.
A-line wedding dresses have an elegant, balanced look. They mix a splash of classic style with a wow factor that turns heads. What's great about these dresses is that they fit well on many body types.
The shape of the dress flatters everyone, making everyone look their best. These dresses are perfect for couples who want a classic, timeless look on their special day. But they're also great for those who want something different and unique.
So whether your style is classic or you want to stand out from the crowd, an A-line wedding dress could be just what you're looking for. Remember, your wedding day is a very special day that you'll remember for the rest of your life. So why not choose a dress that makes you feel amazing?
With an A-line wedding dress, you will look and feel fantastic on your big day.
Compare the A-line style with this year's fashion statements in bridal wear by checking out the latest bridal fashion trends for 2024, where a variety of contemporary designs are showcased.
Enhancing Your A-Line Dress with Necklines and Sleeves: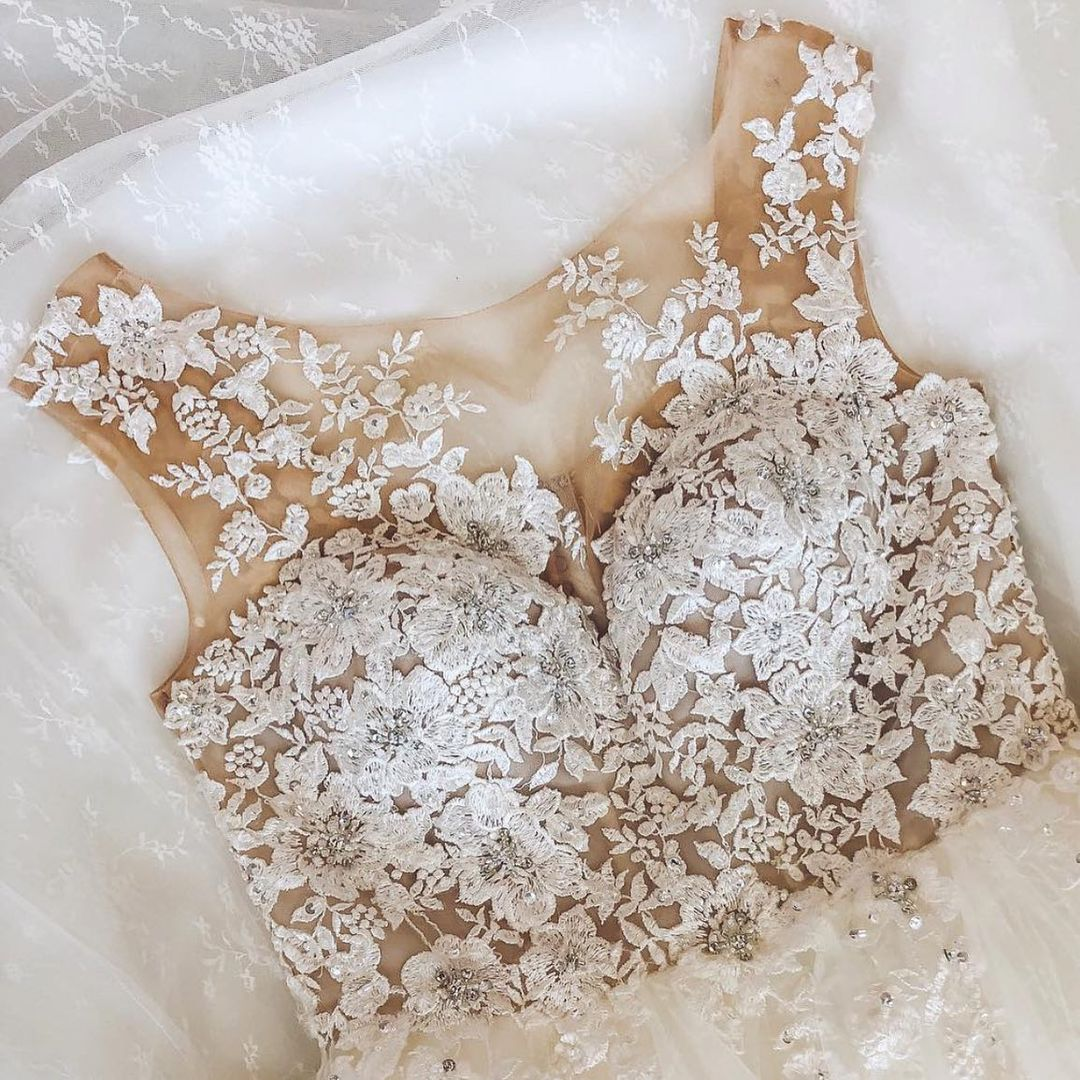 Choosing the perfect dress for your wedding is a big deal. When picking an A-line wedding dress, you can customize it to make it perfect for you. Different necklines and sleeves can change the look of the dress. Some popular neckline choices are sweetheart, deep V, and asymmetrical.
These styles go well with the fitted top and big skirt of an A-line dress. They create a balanced look that's super flattering. When it comes to sleeves, you've got lots of options.
Off-the-shoulder sleeves can make a dress feel romantic. Cap sleeves have a vintage vibe that can make a dress look elegant. Or, you might want to go with long sleeves for a more formal look. Each of these choices can help make the dress feel right for you.
They can also match the vibe of your wedding. It's all about experimenting and seeing what works best for you. After all, fashion is about expressing yourself and showing off your style. With all the different options, you can create a one-of-a-kind A-line dress.
For those contemplating sleeve designs, our collection of beautiful long-sleeved bridal gowns offers a range of ideas to enhance your A-line dress.
Styling Tips for A-Line Wedding Dresses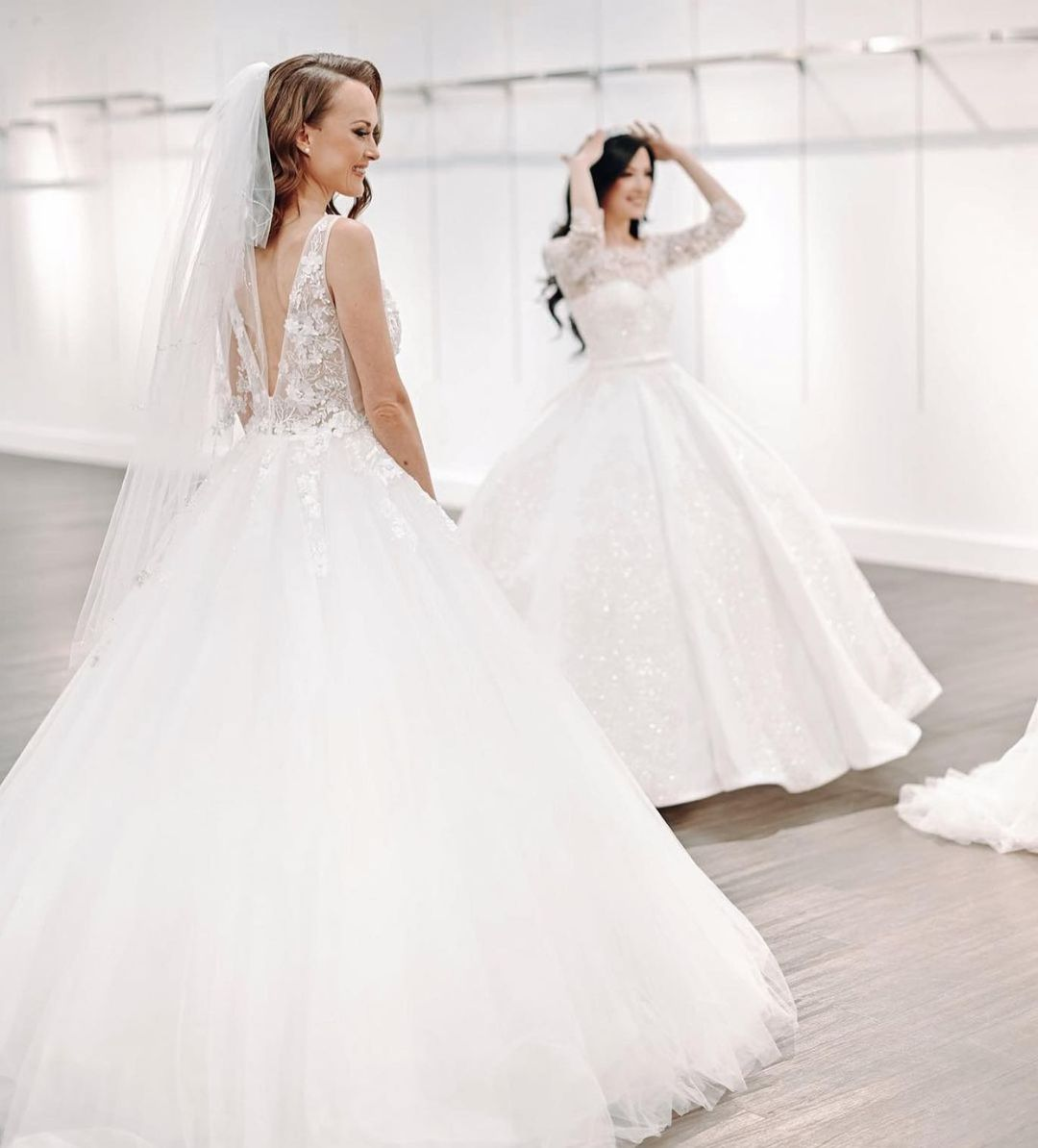 Styling an A-line wedding dress takes a bit of thought. You'll want to think about the fabric and how you accessorize.
Wear stiff materials like taffeta, organza, or satin for a clean, polished look. And don't forget to add some cool accessories, like shoes or jewelry, to make your outfit stand out on your special day.
Lace bodices with flowing skirts can be a great choice for a casual vibe. This style is perfect for beach weddings! But don't forget to pick the right undergarments that go with the shape of your dress. That's important when you're picking out your fabric.
Also, consider where you're having your wedding and what you like when choosing your final look.
If your event is really big and grand, you might want a cathedral train with lots of detail. But a slim line might be better if your gathering is smaller and more low-key. You don't need a bunch of extra frills to make your dress look great.
Top Designers for A-Line Wedding Gowns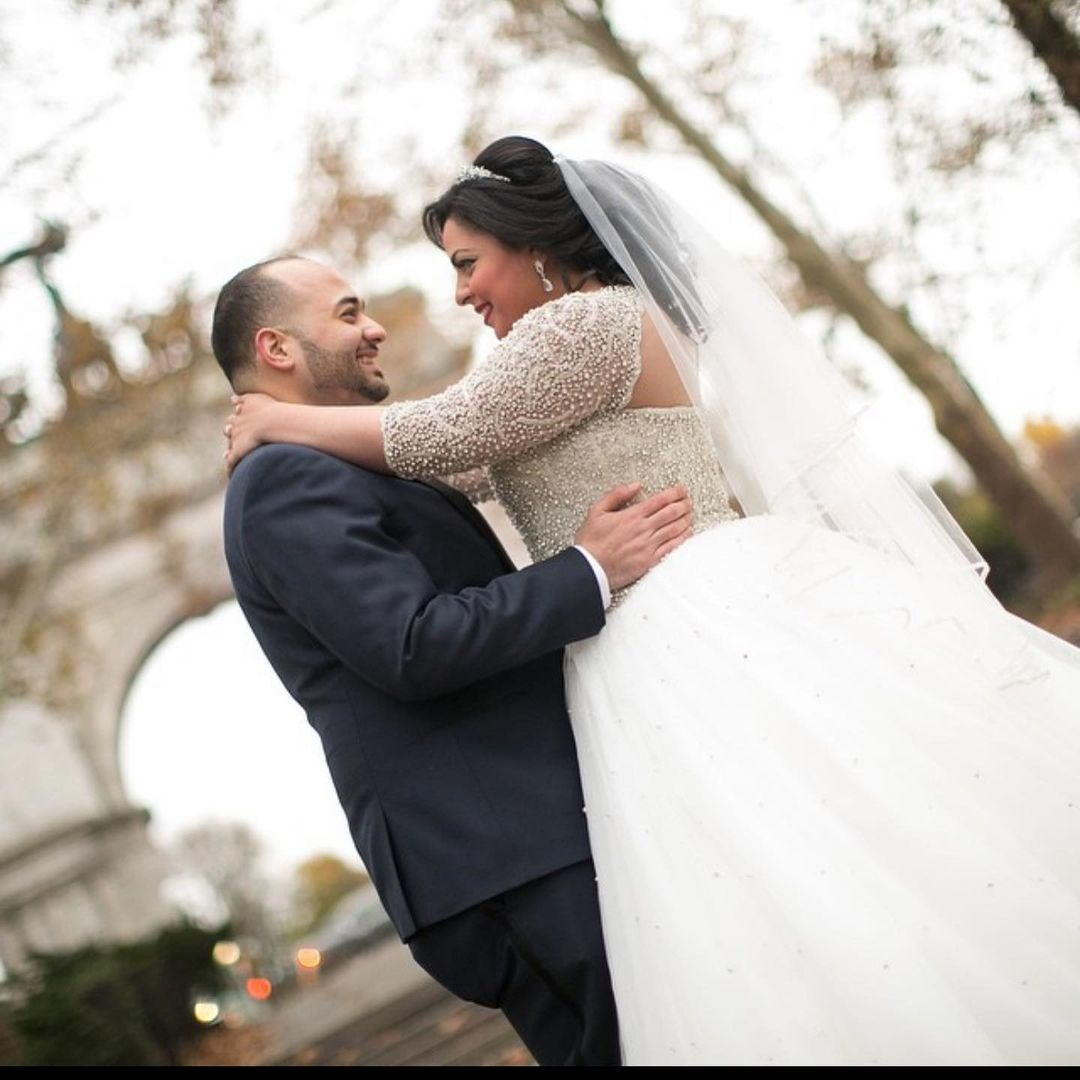 Some top wedding dress designers are known for their amazing A-line wedding dresses. Designers like Emilia Wickstead, Olivia Bottega, and Justin Alexander have unique styles. They use all sorts of different fabrics and details in their designs.
This means every bride can find the perfect dress on her big day. No matter your style, these designers have something that will make you feel amazing.
So take some time to check out what they have to offer. You might find your dream dress!
How to Choose the Perfect A-Line Dress for Your Wedding Day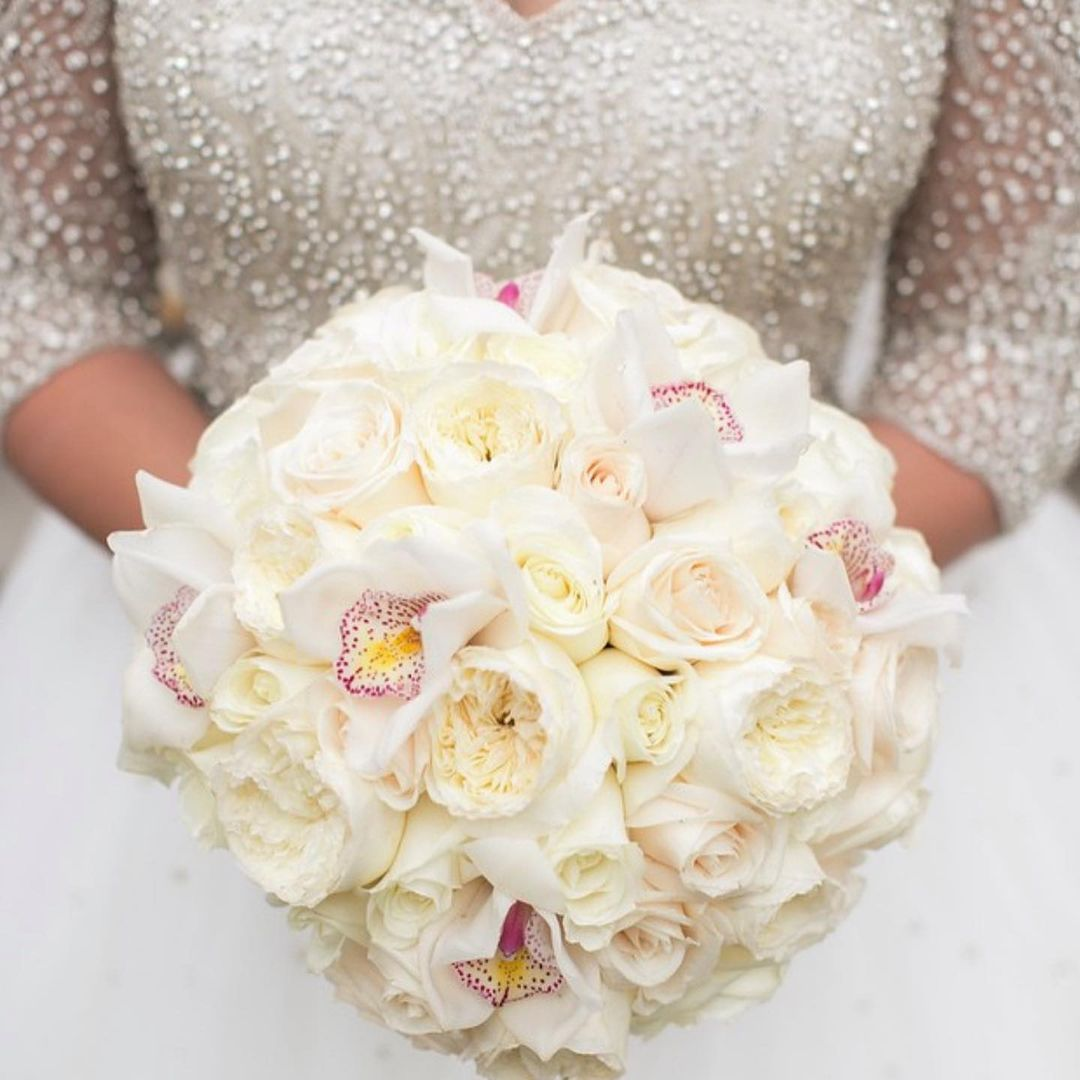 When searching for the perfect A-line wedding dress, there are a few things to consider. First, consider your body shape, as certain styles may be more flattering.
Also, take into account the venue where you'll be getting married. You want a dress that matches the atmosphere and theme of the location. Choose a dress that aligns with your style and makes you feel like the best version of yourself.
The great thing about A-line dresses is that they look amazing on brides of all types. They have a timeless elegance that never goes out of style.
It's important to try on different styles and necklines until you find the one that fits perfectly. Remember, your wedding day is all about you, so choose a dress that shines with self-assurance.
It's important to select a gown that matches the atmosphere of your celebration. If you're having a grand ceremony, Choose a gown with an opulent long train or unique sleeves.
But a simpler gown might be more suitable if you're planning a more intimate or private gathering. Customizing your gown allows you to create a one-of-a-kind piece.
Don't forget the key to finding the perfect A-line wedding dress is to trust your intuition. Choose something that makes you feel beautiful, even if it's different from what you expected.
Enjoy exploring many options and trying different dresses before deciding on the one that feels right for you. The journey of finding your dream dress is as special as the day itself, so embrace it with joy and excitement!
Customizing Your A-Line Wedding Dress
Tailoring your A-line wedding dress can make it unique and match the vision of your special day. There are many ways to customize your A-line wedding dress and make it your own. You can change the neckline to sweetheart, V-neck, or something else.
Adding sleeves or a belt can also enhance the look and provide a touch of personalization. These dazzling embellishments can make your gown shine brighter.
They also create a unique statement that reflects your style. You can bring out your unique style when customizing an A-line wedding dress. It's all about finding the design elements that highlight who you are.
So don't be afraid to let your creativity shine and create a dress that is as special and one-of-a-kind as you are. Embrace your creativity, and don't hesitate to think outside the box. Let your imagination run wild, and enjoy the process of crafting a gown that reflects who you are.
A-Line Wedding Dress Trends for 2024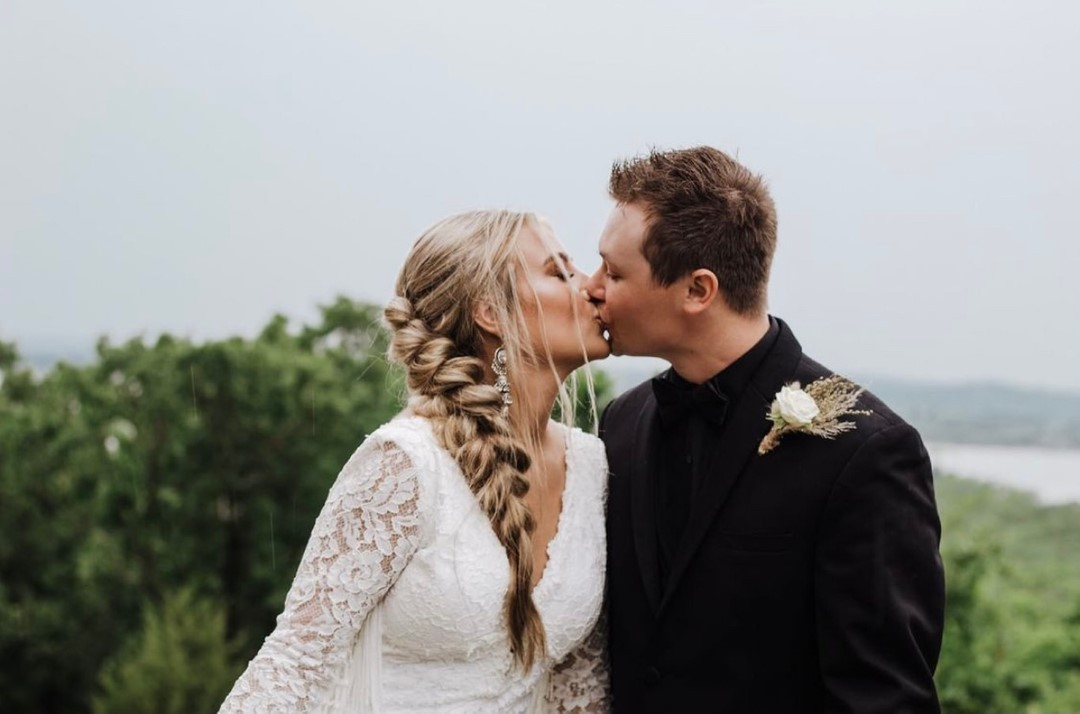 As we look at the bridal gown trends of 2024, A-line dress styles remain in high demand among soon-to-be brides. In A-line wedding dresses, some trendy features have captured everyone's attention. Unique necklines, like off-the-shoulder or illusion styles, are a big hit.
And when it comes to fabric, romantic lace is a popular choice, creating a delicate and timeless look. For a more modern twist, minimal crepe fabrics are used, giving the dress a sleek and sophisticated feel. On the other hand, whimsical tulle is also in demand, adding a touch of ethereal charm.
The best fabrics are lightweight crepes, airy tulles, and traditional laces. These fabrics add a beautiful and elegant touch to the dresses, enhancing their appeal. All perfect picks that offer fresh updates befitting contemporary couples tying the knot!
Traditional tones remain at the forefront of the color palettes for next year's forthcoming wedding dresses. Classic ivory continues to rule, joined by soft blush pinks and intriguing shades of off-white and nude. These unexpected color choices bring a refreshing twist to the typical bridal selections.
These elegant gowns, designed specifically for weddings, enable brides-to-be to express themselves uniquely on their special day.
They incorporate design elements such as asymmetrical necklines and off-shoulder details. Additionally, statement bows add a touch of individuality while maintaining the timeless elegance expected from such dresses.
These carefully considered elements breathe life into the dresses, allowing each bride's personality to shine through her chosen gown.
In addition to traditional gowns, explore our article on trendsetting white jumpsuit styles for weddings for an avant-garde take on bridal fashion.
Shopping Tips for A-Line Wedding Dresses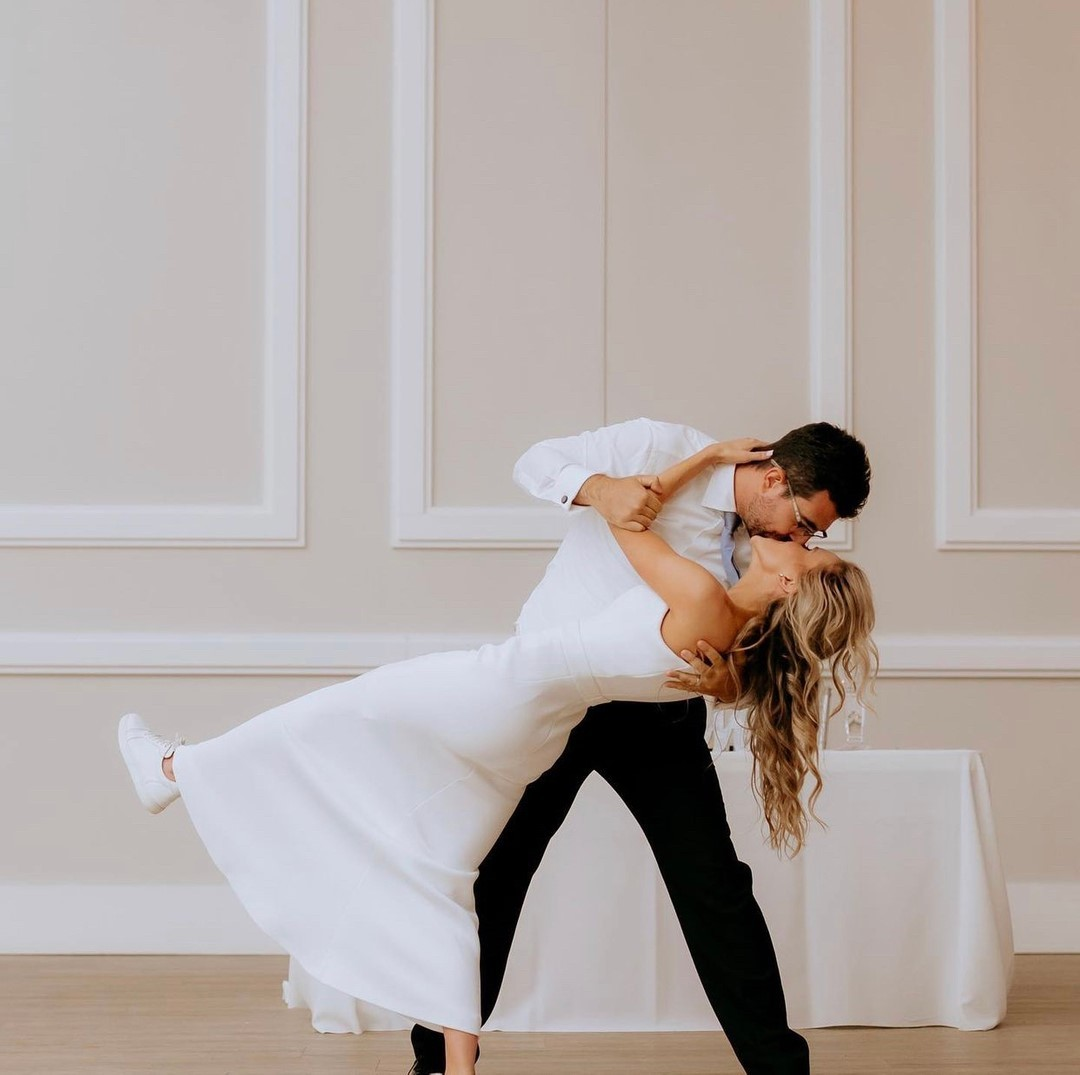 When hunting for a line of wedding dresses, it is crucial to remember some key points to get the ideal gown for your special day.
To begin with, before checking out stores, know the styles that appeal and know how much you are willing to spend; this way, one can stay targeted without becoming confused by all options available.
Second, when selecting an A-line dress, consider where and what type of atmosphere your ceremony will be held in.
A highly formal celebration may need something more intricate such as a long train or embellishments on sleeves, whereas less grand events might fit better with slim cuts lacking any additional length from their hemline.
Thirdly, while shopping around for these kinds of bridal wears, make sure there's someone who knows you well, not just because having people whose opinions matter could prove extremely beneficial, but also because appropriate attire like underwear or shoes should be worn during the fitting process should not forget about them either.
Lastly, explore different kinds of fabric designs until locating a truly perfect item that fully communicates your style. Don't hesitate to go ahead and enjoy discovering dreamy A-line marriage outfits!
If you're planning a summer celebration, our summer wedding dress selection guide can assist you in finding a style that complements the season.
Real Brides in A-Line Wedding Gowns
Real brides, wearing their stunning A-line wedding gowns, provide excellent ideas for the perfect look on your big day.
Different fabrics and styles enable the customization of these classic silhouettes. From romantic lace to crepe designs, an array of options are available when selecting a dress that suits your style.
Seeing how real couples combine elements with this type can be beneficial in creating one's ideal dreamy outfit!
A line of dresses presents endless possibilities for every bride to showcase her taste and bring out true beauty within herself during this special occasion, providing inspiring looks!
To help you decide what best fits, you take a cue from those who have already found something beautiful by exploring all variations offered here: tulle as well as minimalistic shapes accompanied by unique accents like beads or embroideries give each piece its singular charm making it stand out even more so among other bridalwear collections!
On finding the right fit, don't forget there is no "wrong" choice – only yours! Whether picked off shelves, sleek modern design laced up delicately, or ethereal pieces allowed to fall, bringing elegance under layers freely, you will always make confident, stylish self shine through important events such as weddings!
Summary
When looking for the perfect a-line wedding dress, staying true to your style and considering body shape and the venue is key.
With its universally flattering silhouette, this versatile choice can help capture any bride's unique vision of her special day while providing an elegant touch.
Exploring different fabric types or design elements with endless possibilities from A-line dresses will give you the perfect blend required on such a big occasion.
All brides need not fear when searching for their dream gown. Plenty of tips and trends offer guidance in finding one that showcases them walking down the aisle like royalty!
To appreciate how bridal fashion has evolved, take a look at our extensive article on the historical evolution of bridal gowns, tracing the journey of wedding dress styles through the ages.
Frequently Asked Questions
What is an A-line wedding dress?
A wedding dress in an A-line style is a garment that flares out from the waist, resembling an "A" shape. This versatile gown can come with any neckline or design detail and has been designed to flatter the curves of brides looking for classic and dramatic styles. The fitted hips provide elegant structure while ensuring your beauty shines through on one of the most important days!
Are A-line wedding dresses flattering?
A-line wedding gowns are ideal for brides with a chic and sophisticated look. The fitted bodice with an A-shaped skirt accentuates curves while delivering timeless elegance, making it perfect for any body type. Whether you desire something romantic or modern, these classic silhouettes will never go out of style on your big day.
What is the benefit of an A-line dress?
The A-line dress is a great addition to any wardrobe, for its flattering slim shape suits almost all body types and produces an attention-grabbing look with the fitted waist plus flared skirt. This style of garment can easily be accessorized, which makes it perfect for special occasions. It has an elegant appearance that's easy to integrate into different looks.
What do you wear under an A-line dress?
A line dress wearer should select seamless underwear and a supportive bra that won't be visible under the garment. Investing in bridal lingerie can add extra comfort throughout your important event.
What makes A-line wedding dresses universally flattering?
The A-line silhouette has been popular for decades, featuring a fitted bodice that gradually flares into the skirt. This style's balanced and proportionate shape flatters all body types, making it an ideal option for brides who want to look their best on the big day. Whether you desire something classic or modern with some romance added in. Its timelessness makes sure your dress is perfect! With its universally flattering design, those wearing an A-line will feel confident walking down the aisle.