Latest posts by Nazy Rafaeil
(see all)
Last Updated on 1 week
Cute Sweet Sixteen Dresses: Unforgettable Styles for Your 16th Birthday Celebration
Welcome to the enchanting world of Jovani, where each stitch weaves a story of glamour and sophistication. Your favorite designer for creating unforgettable moments on your sweet sixteenth birthday. Finding the perfect dress for your Sweet 16 event can be tricky, with many styles and colors. This guide will help you pick an awesome outfit that shows who you are. It's all about finding something that you love and feel great wearing. For those who might not know, Jovani is a world-renowned brand about making you shine. Their dresses are perfect, from red carpet events to your sixteenth birthday bash. And guess what? They have an entire collection dedicated to sweet 16 dresses!
Often gets ideas from what celebrities wear at different events. They look at these trends and use them to create unique, stylish clothes that people will love. You'll see they have similarities if you compare Jovani's designs to celebrities who own fashion brands. This shows how Jovani keeps up with the latest fashion trends and uses them in their clothes.
Remember, turning sixteen is a big deal! It's a day filled with love, laughter, and many memories you'll cherish forever. And what better way to make it unforgettable than by throwing a sweet 16 party and shining in a cute dress for sweet 16?
Whether you're a fan of bold, vibrant colors or love pastels' elegance, Jovani has something. Jovani styles range from classic princess ball gowns to chic, modern designs.
Short Summary
Discover the favorite sweet sixteen dresses with flirty & sophisticated silhouettes, dazzling sequins, and romantic lace!
Customize your look with handmade embellishments, tailored fit, or mix-and-match separates for a one-of-a-kind look!
Accessorize to make it unforgettable – choose shoes, jewelry & hair accessories that wow guests on this special day.
Top Cute Party Dresses
A dress for a sweet 16 celebration expresses the birthday girl's style and party plans. From flirty minis to off-the-shoulder elegance, there's a perfect garment for every young lady on her special day. You can find styles with timeless strapless shapes, like sparkly beads or layered designs. They come in beautiful colors like creamy ivory, soft blush pink, or light sky blue. The dresses are great for a pool gathering or celebrating your big 16th! Exquisite fabrics such as sparkling sequins, romantic lace & gorgeous tulle can make it even more magical.
Now let us look into some popular styles to create an unforgettable night.
Short and Flirty Dresses
There's no better style for a birthday party than short and flirty dresses. Party dresses like flattering off-the-shoulder sweet 16 dresses in burgundy or red are a perfect choice. A range of trendy options is available when trying to decide. Consider colors such as blush, ivory, or pink for a youthful vibe that will show off your lively side while still looking chic! Make this special day even more unique by choosing a beautiful dress from our amazing selection of formal gowns. It's your chance to show off your fashion sense and make a statement.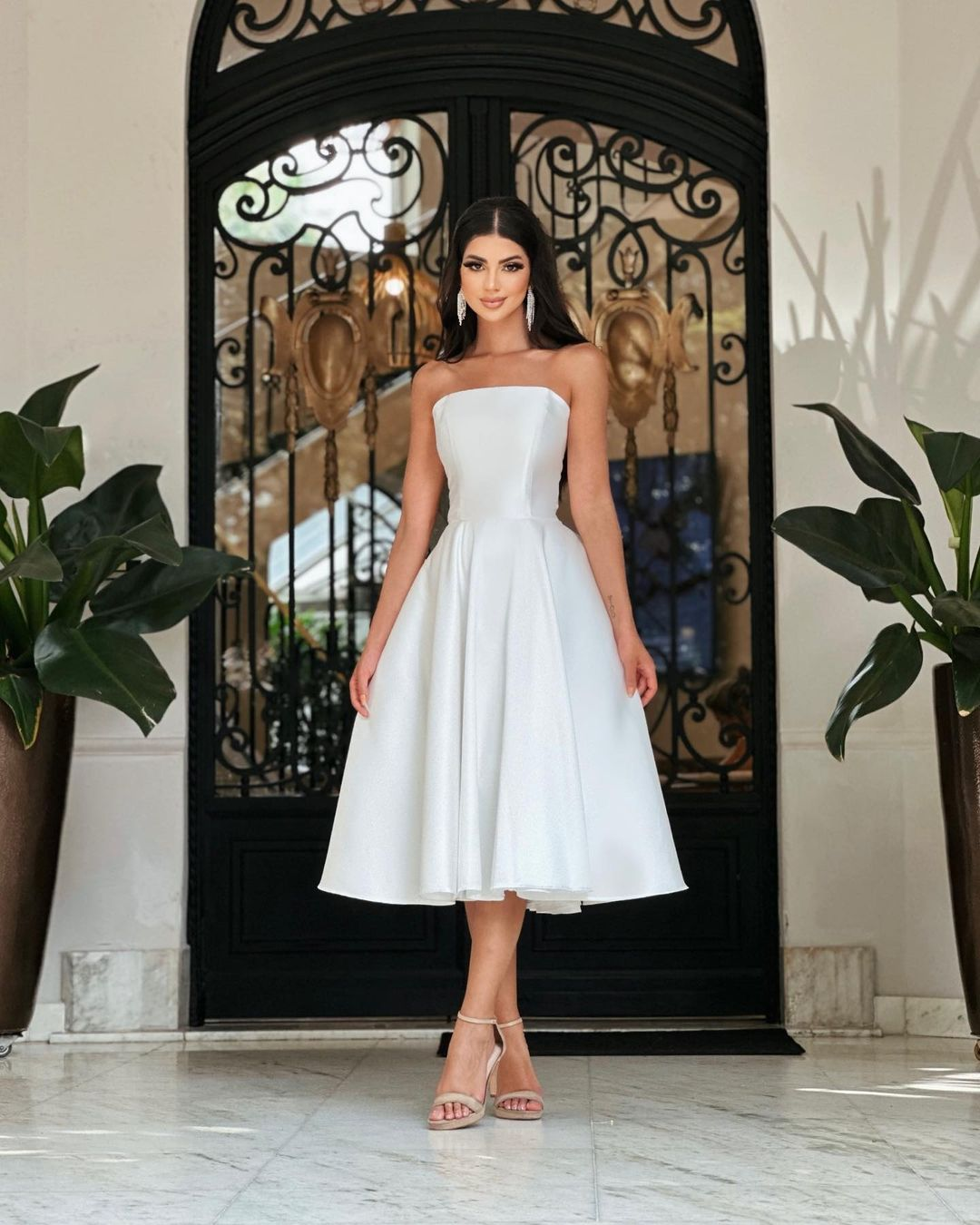 Off-the-Shoulder Elegance
Off-the-shoulder dresses are a pinnacle of contemporary style mixed with classic elegance. Off-the-shoulder necklines are a stylish and sophisticated choice for formal occasion celebrations. An off-the-shoulder Sweet 16 dress blends timeless style with a fun, young vibe. You'll create a trendy, flattering look by showing off your shoulders and collarbone. These dresses come in all sorts of styles, like full ball gowns or shorter dresses with pretty lace details, so you can find one that suits you. Add cool accessories like a standout necklace, earrings, or bracelets to sparkle your outfit!
Light Blue Enchantment
When you plan your Sweet 16 celebration, select a light blue dress that fits the event's theme and code. Blue stands for wisdom, confidence, and loyalty, which are great qualities to highlight at a Sweet 16 party, a growing-up celebration. A light blue dress could be perfect for a day party, while a dark navy dress could be great for a night event. No matter the theme, a blue dress will make the birthday girl feel special and classy. Consider the time of day, venue, and occasion when selecting options like two-piece sets or ball gowns. Doing so will ensure you look stunning on this special day! Wearing a lovely shade of blue can make your Sweet 16 even more magical. Blue represents charm and elegance, making it the perfect color for any birthday princess celebrating her big 16!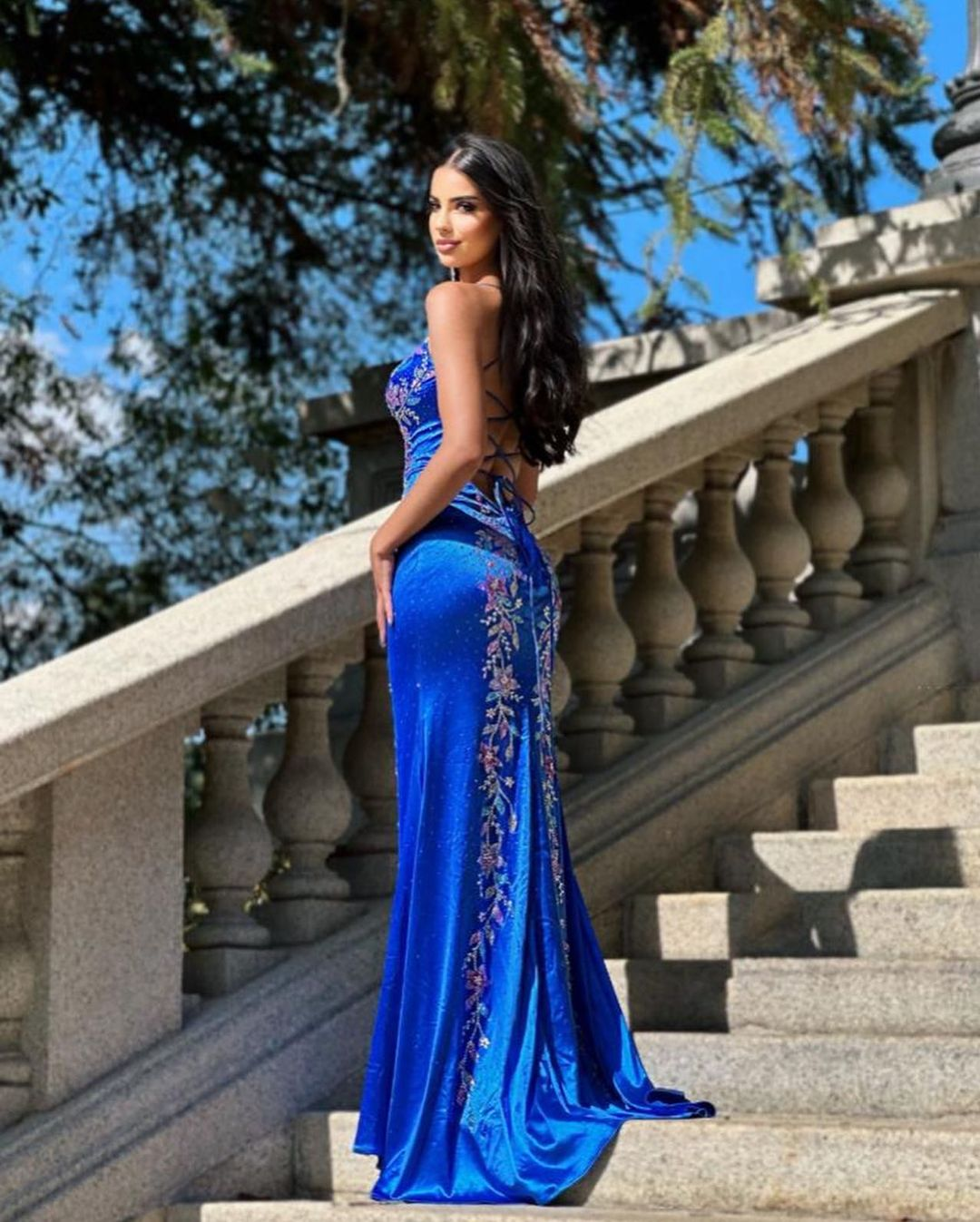 Dress Code Considerations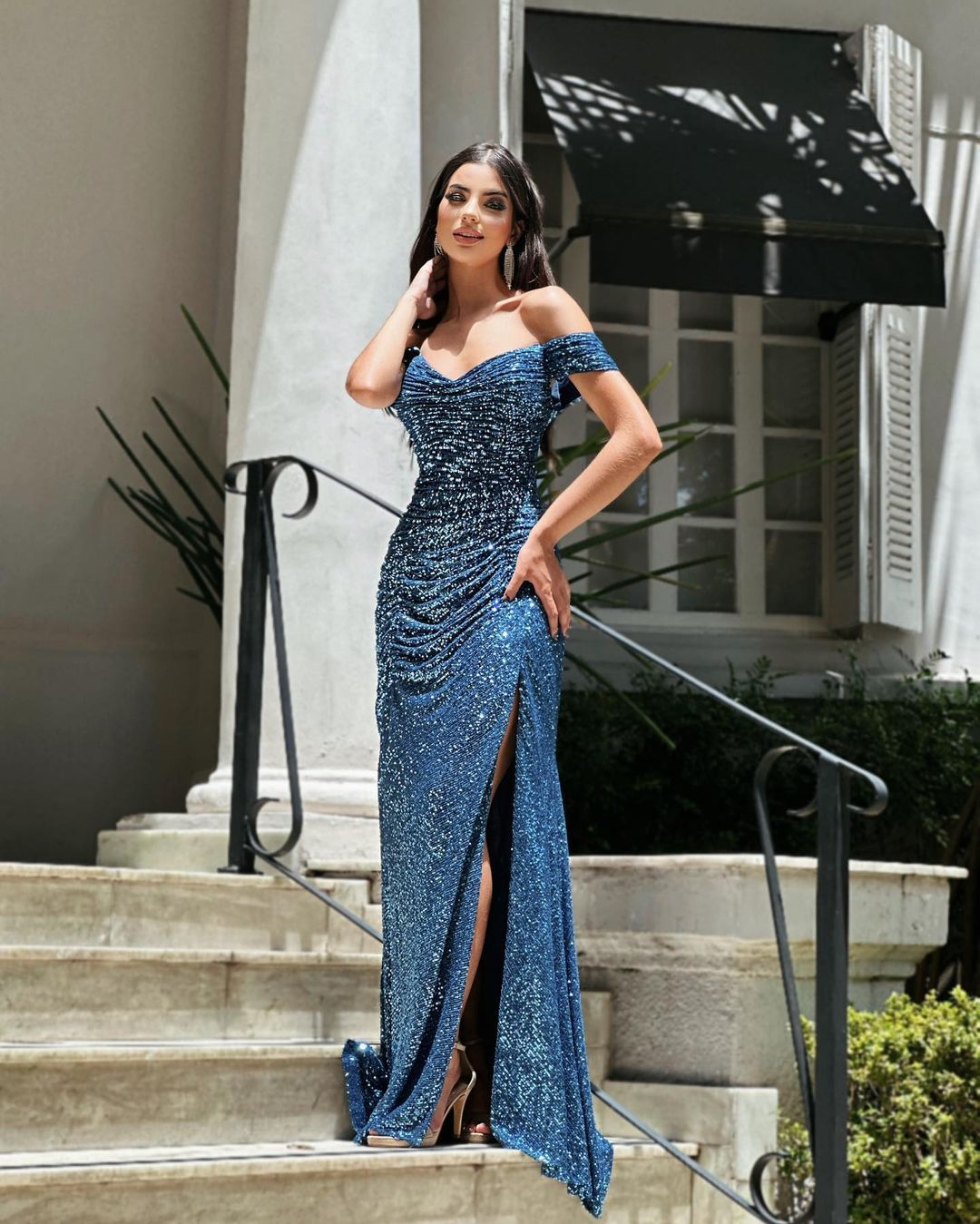 The theme of the party plays a big role in what to wear. For example, a light, flowy dress would be perfect for a beach theme. A fancier, glittery outfit would be the right choice for a Hollywood glam theme.
Most Sweet 16 parties lean towards semi-formal or formal attire. Girls pick out pretty dresses for these parties. They might wear short party dresses or fancy long gowns depending on the formal event. The birthday girl usually wears a dress that stands out from the rest. She might choose a dress with special details like sequins, ruffles, or an unusual color to highlight her special day. Her outfit must align with the theme but also have that extra flair.
Don't forget about accessories. They can elevate your outfit. This could be a statement necklace for a girl or a cool tie for a boy. Shoes should be stylish but also comfortable enough to dance in.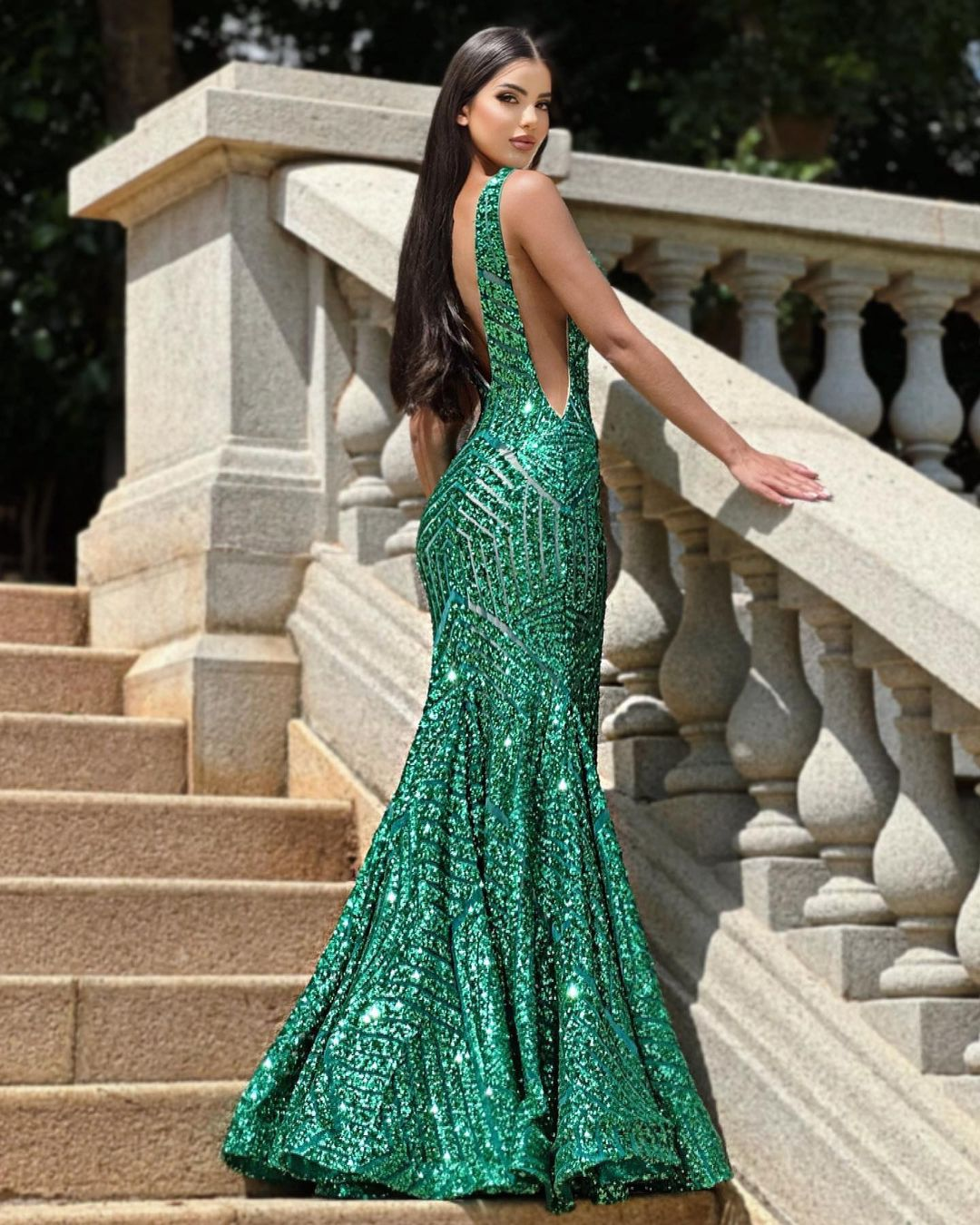 Theme-Inspired Outfits
Your dress should show off your party's theme and make it something guests won't forget. Whether it's a fun superhero-themed party or a classy all-white event, wearing a special outfit is key to creating a cool and memorable party vibe.
Whether your party is as sweet as a candy bar theme, as bold as a vibrant color scheme, or as quirky as a Mad Hatter tea party, the right dress can show off each idea. It's all about picking a dress that fits in with your party and makes it even more fun! Select one that fits your event's context and ensures everyone has fun and truly enjoys themselves!
Venue-Appropriate Attire
Picking the right semi-formal dress is important for any event. A fancy dinner might need a different dress than a laid-back outdoor party. For example, if you're going to a winter-themed event with lots of light blues, you might want to wear a dress with sequins and a fur shawl. But if it's a beach party, a lighter dress and sandals could be the way to go. Always consider where the party is and the theme when picking your outfit to ensure it fits right in!
Time of Day
For a celebration, selecting a suitable dress is an important decision. Different styles are more suitable for either day or night events, so considering this when deciding on your outfit is essential. For daytime parties, wearing a knee-length or shorter dress might be right. For daytime parties, wearing a knee-length or shorter dress might be right. And for evening events, you might want a longer dress or a fancy jumpsuit.
Accessorizing Your Sweet Sixteen Dress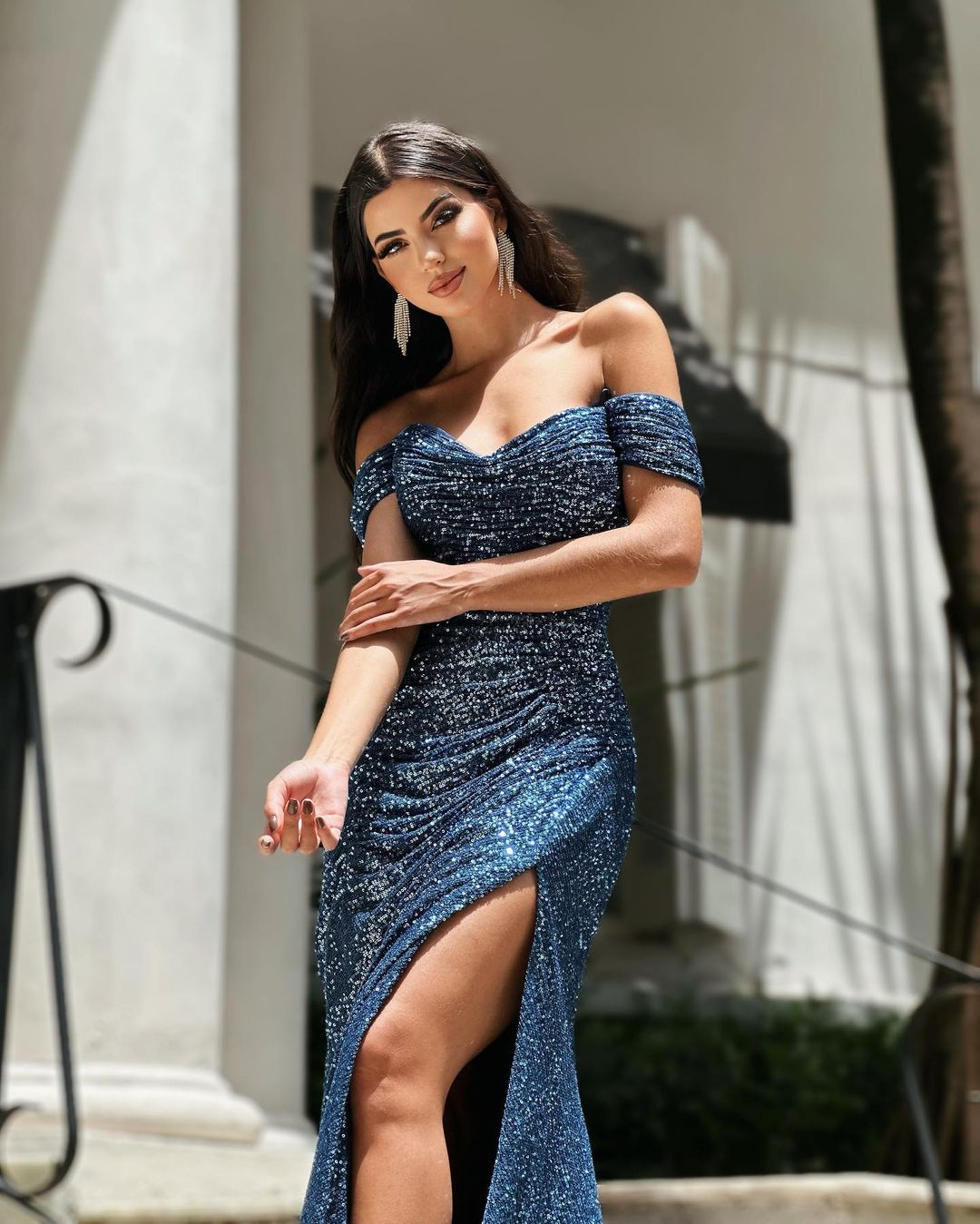 Remember to add matching accessories when picking out your perfect Sweet 16 outfit. Things like shoes, jewelry, and hairpieces can pull your look together. Selecting items that match color and style can give you an extraordinary look on such a special occasion. Selecting items that match color and style can give you an extraordinary look on such a special occasion.
Consider your accessories based on your dress to put together the best outfit. If your dress is a bright color, pick simpler accessories. But if your dress is neutral, add flashy jewelry or other fun accessories like hats or brooches.
Here are some tips for accessorizing your gorgeous sweet sixteen dress so all together will make quite an impression!
Shoes to Match
When picking shoes for your party dress, think about the style of the dress, the type of party, and what time it is. Beige or blush shoes can look classic with a pink Sweet 16 dress. Light baby pink dresses can look even better with nude or blush shoes. Pick shoes that match your style and keep you comfortable all day. If your dress is simpler, your shoes can add color or a fun design.
If you're going to a Sweet 16 party, try wearing a light-colored dress with beige or blush-colored shoes. It'll give you a classy look that is perfect for such a special event.
Jewelry and Hair Accessories
The right jewelry and hair accessories can make your outfit pop. Think about the style and color of your dress and how fancy or laid-back the party will be. Also, consider if it's a daytime or nighttime event. Accessories like flower crowns, sparkly pins, and headbands can add extra shine. You can pick something more sophisticated for a fancier event, like a pearl necklace or diamond earrings.
Outerwear Options
When getting ready for your Sweet 16, remember to stay both stylish and cozy with the right outerwear. What you choose should depend on where and when the party is and how cold it might be. You could add layers if it's during a colder season. To finish your look, consider wearing jumpsuits or rompers, long skirts, or pantsuits that go well with your dress. Always think about the weather to stay comfortable but still look great at your special event!
How to Choose the Perfect Dress for Your Body Type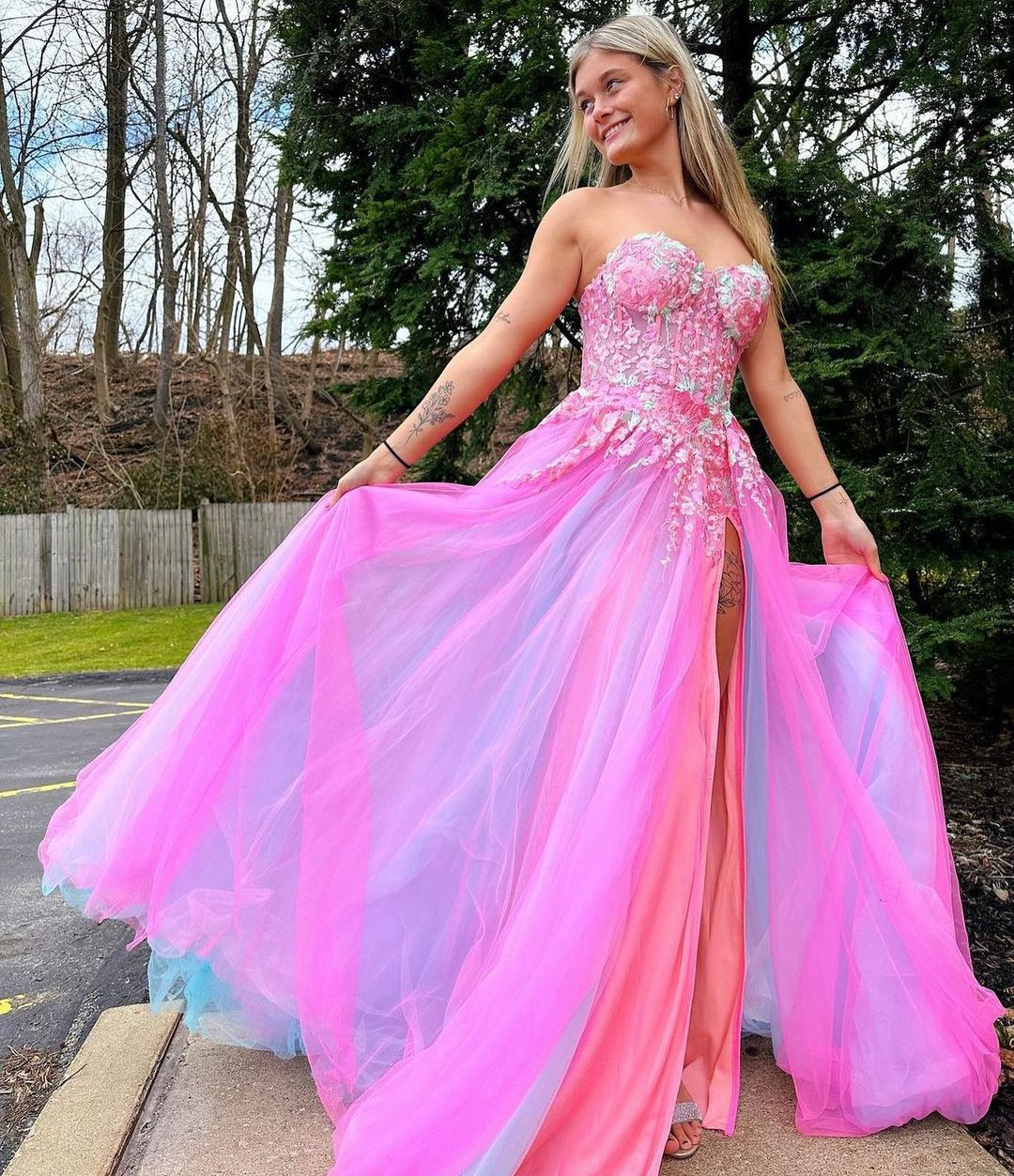 On your big Sweet 16 day, finding a dress that fits well and makes you look your best is important. This will help you feel confident and amazing. Knowing how to pick the right dress can show off your best features and give you a great silhouette. Here are some tips on how to find the perfect gown for you:
No matter if you're petite, curvy, tall, or slim, there's a special outfit out there that can be made for you to make you shine at the party. Make sure it's both comfortable and stylish! The perfect outfit should show off what looks best, ensuring you have a great time at your celebration.
Petite Figures
If you're petite, pick a dress style that works well with your figure. Short dresses with an A-line or fitted style with a lace-up back can look great if tailored. Pair them with low-heeled shoes and delicate jewelry to finish off your outfit. Choosing a fully embellished sequin bodice dress could also be a fantastic choice. The sparkle and shine can draw attention to your outfit, making you the event star.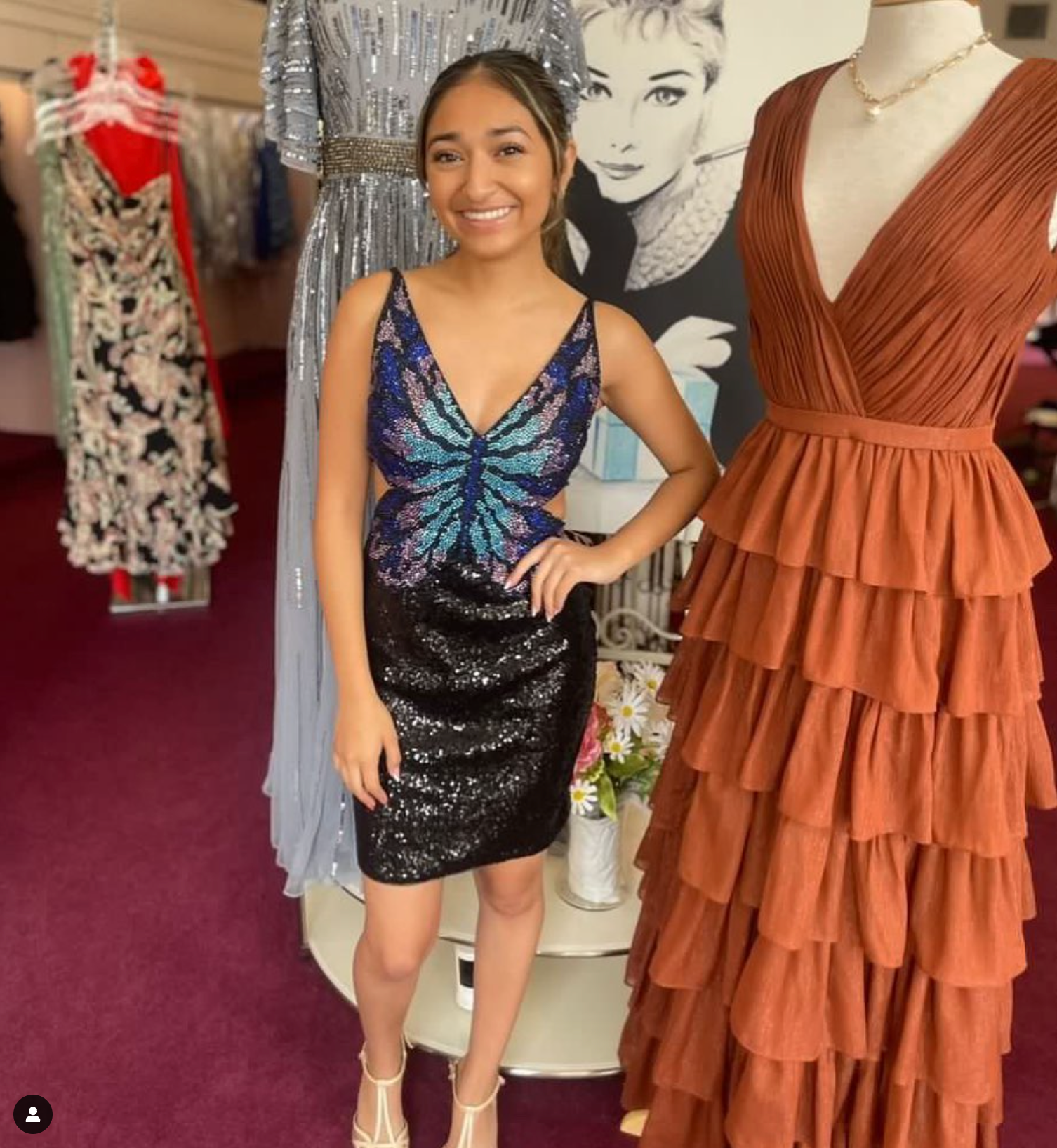 Curvy Bodies
Consider what looks best on you. Wrap dresses, styles with empire waistlines, or dresses with bold waistbands can highlight your figure well. Dressing up in the right outfit can make your Sweet 16 celebration picture-perfect!
Tall and Slender
If you're slender and tall, choose something that shows off your height and gives you an elegant look. Long dresses, skirts, or midi lengths are perfect because they highlight your tall features. High-waisted styles or ones that define your waist can create an hourglass shape, giving you balanced curves. Try to avoid vertical stripes, though! Small prints can work better to enhance your tall frame.
Choose Embellishments
Make your Sweet Sixteen dress stand out using cool ideas from other Jovani designs. Add shiny sequins, pretty lace patterns, or flower-shaped appliques to your dress to make it special. You could even use small beads or sparkly rhinestones to make your dress shine! You can change a plain dress into something awesome for your special day with creativity and work. Don't forget dressing up is meant to be fun, so feel free to try out different things.
Tailoring for a Perfect Fit
Ensuring your dress fits right is key to looking and feeling great at your Sweet Sixteen. An expert tailor in your town can change your dress so it fits. This might mean making the waist smaller, the dress shorter, or adjusting any straps. These changes can help your dress look perfect for your big day. You'll feel like a queen in your special Sweet Sixteen outfit by getting your dress tailored!
Mix and Match Separate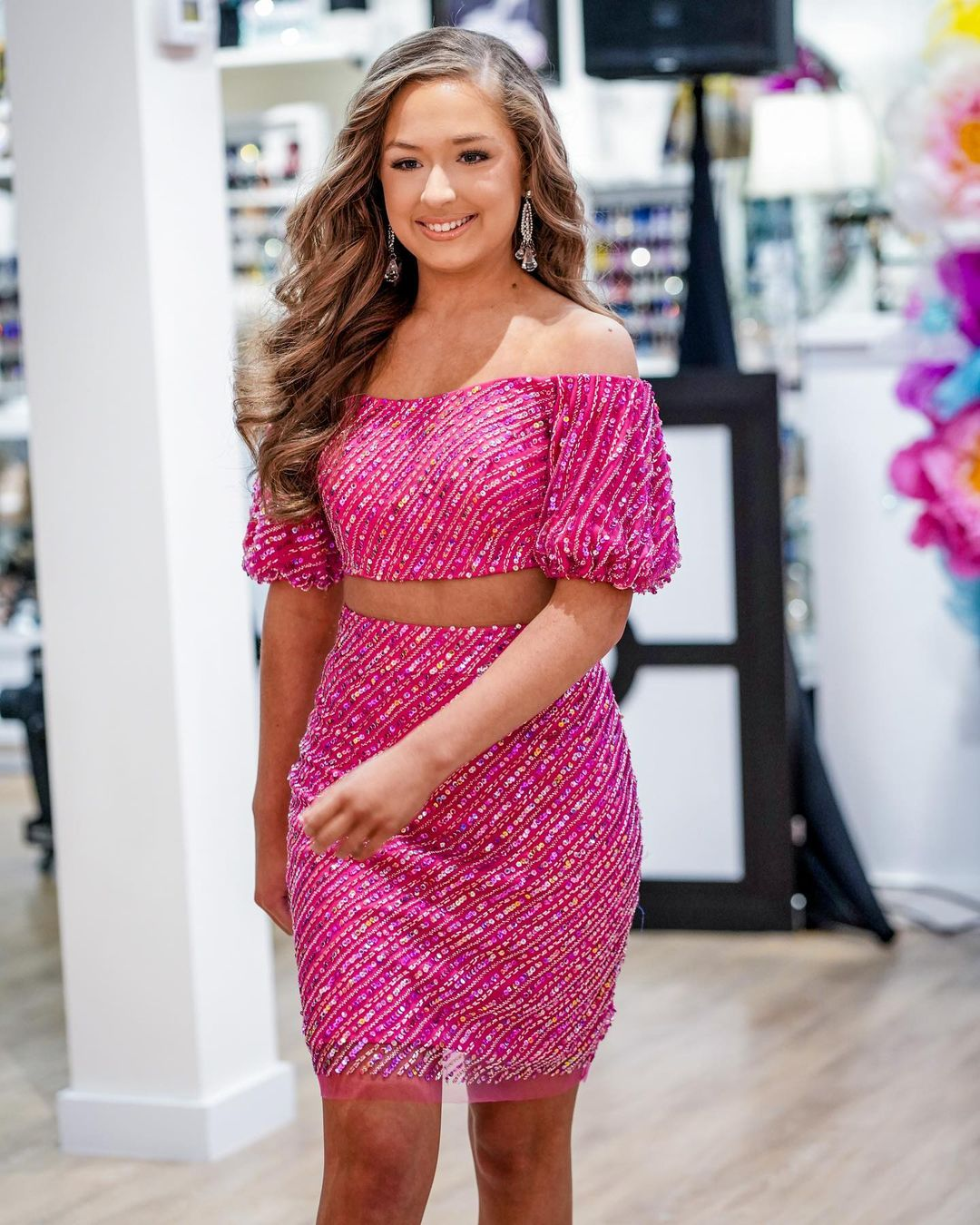 Create a look that's all your own for your Sweet Sixteen by mixing and matching different pieces. You can pair fancy tops and bottoms with various accessories to make a unique style statement. Choosing outfits in sets can be easy and stylish, but you can also add a personal touch by mixing casual and fancy items. You can show off your unique personality at your special celebration. It's all about finding the right balance that suits your style!
Summary
Finding a unique dress is key to making your Sweet Sixteen celebration memorable. Your personal style and body type should be considered, as the event theme and what kind of dress code applies. We've got you covered with our comprehensive style guide and how to accessorize or customize certain aspects! So prepare for an extraordinary day by selecting a unique ensemble that lets you look and feel fabulous – it's time to celebrate!
Frequently Asked Questions
What should a girl wear to a sweet 16?
To shine for your sweet 16, choose a sophisticated and classy dress. A cocktail outfit or formal gown with a mermaid silhouette or low neckline makes for chic options to look fabulous! Don't forget to pick out the colors you love best (patterns and all) to be at the height of fashion. To finish your ensemble nicely, add jewelry, such as earrings and bracelets, an appropriate clutch bag, and some fashionable heels so you're comfortable yet still looking great throughout this special night.
Can I wear a quinceanera dress to my sweet 16?
Add some excitement to the festivities on your special day by wearing a quinceaera dress! You can showcase and express yourself through this unique outfit for an unforgettable sweet sixteen. With one simple garment, you will bring joy and fun into the atmosphere, making it memorable with style.
What are some popular dress styles for a Sweet Sixteen celebration?
your favorite dress can be found in various trendy styles for a special Sweet Sixteen celebration. Shimmery sequins and off-shoulder dresses add glamour to any look, while light blue hues bring that touch of elegance for a night out. Look through different dresses in various designs, from classic cutout necklines to strappy ones, to find your ideal style! Don't forget sparkles are always on trend during celebrations like these – adding just enough glitter will make your outfit stand out from everyone else's looks on this momentous night.
How can I ensure my dress is appropriate for the party venue?
Before heading to a party, it's important to research the venue and determine which style fits best with its theme. Make sure you dress according to the event by following guidelines appropriate for that particular occasion so that your outfit is fitting!
What accessories should I consider for my Sweet Sixteen dress?
Making your Sweet Sixteen dress just how you want it can be fun! Choose from glittery shoes, glamorous jewelry, and an elegant hairpiece to put on the perfect finishing touches. Lastly, complete your look with a stylish jacket or coat to make you stand out for this special day! So why not add some pizzazz to that lovely sweet sixteen outfits?